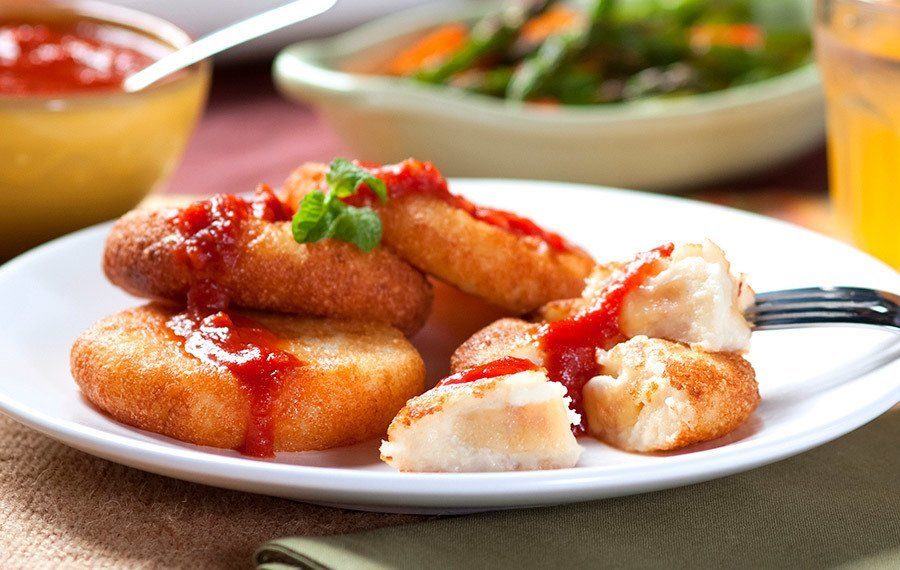 Potato Cakes
by
V & V Supremo Foods, Inc.
Potato Cakes are a seriously delicious snack or appetizer that everyone can agree on and which everyone will love. Try it for yourself and you'll find your bliss.


Ingredients
1 lb. red potatoes, washed

¼ tsp. kosher salt

1½ cups Grated Sierra® Brand Cotija Cheese from V&V SUPREMO®

2½ Tbsp. corn starch

1 large egg

¼ pkg (8.8 oz.) Chihuahua® Brand Quesadilla Cheese from V&V SUPREMO® cut into twelve cubes (½ inch dice)

4 cups Vegetable oil for frying
6 Steps to complete
1

Place potatoes in a medium pot with enough water to cover potatoes by 1 inch. Place pot over medium heat, bring to boil and cook for 20 minutes or until potatoes are soft when pierced with a knife. Remove from heat and strain. Set aside to cool. When potatoes are cool enough to handle, peel.

2

Place peeled potatoes in medium bowl. Mash with a potato masher until smooth. Add salt, Grated Sierra® Brand Cotija cheese, corn starch, and egg. Mix until all ingredients are well incorporated.

3

Form ¼ cup potato mixture into a disk with the palm of your hands. (Rub your hands with a little oil to prevent potatoes from sticking.) Place a cube of Chihuahua® Brand Quesadilla Cheese from V&V SUPREMO® in the center. Cover with potato mixture and shape into a 2½ inch disk. Repeat process with remaining potato mixture. Place cakes on a baking sheet in a single layer. Cover with plastic wrap and place in refrigerator for at least 20 minutes to firm up.

4

Pour oil to a level of about ¾ inch into a medium deep saucepan (10 inch diameter, 3 inch deep) and place over medium heat.

5

Once oil reaches 375°F, carefully place as many potato patties in pan as will fit in one layer. Cook until golden brown carefully flipping to brown both sides with a slotted metal spoon or spatula. Each side will take about 1 minute. Remove potato patties from oil. Place on paper towels to drain excess oil.

6

Serve with salsa of your choice. Enjoy!
Comments
WHERE TO BUY
Missing some of the ingredients produced by VV Supremo? Find the nearest store in your area:
Find Store Now!
Store Locator
Great Places You Can Find
Our Products

Find A Store Now!
Available At
Great Places You Can Find
Our Products