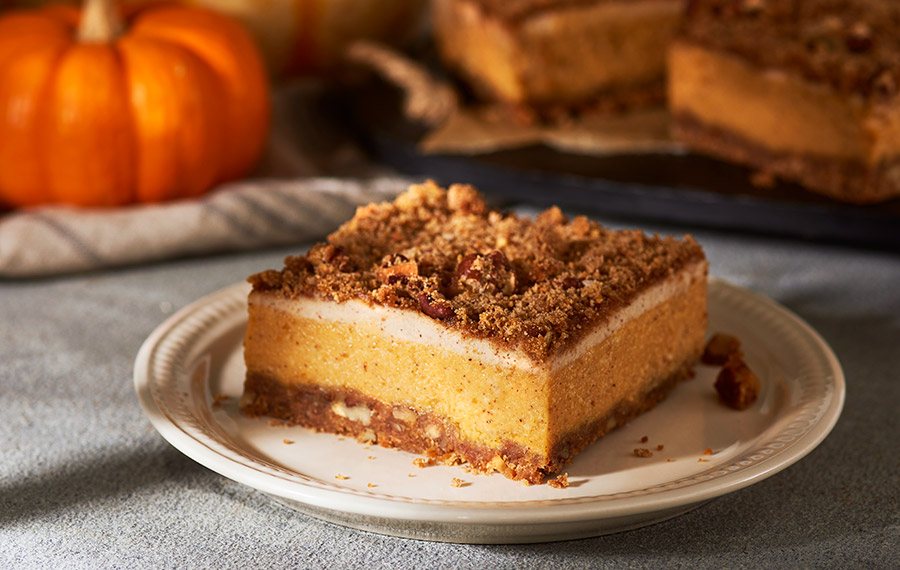 Pumpkin Cheesecake Squares
by
V & V Supremo Foods, Inc.
Queso Fresco Cheese from V&V Supremo® and pumpkin spice make an irresistible combo in our Pumpkin Cheesecake Squares. ¡El otoño es perfecto para las calabazas!


Ingredients
Pecan Crumble Topping
½ cup all-purpose flour

½ cup pecan pieces

⅓ cup Graham cracker crumbs

⅓ cup brown sugar

1 Tbsp. ground cinnamon

½ tsp. Kosher salt

¼ cup unsalted butter, cubed

Non-stick cooking spray
6 Steps to complete
1

Pre-heat oven to 350˚F.

2

In a large bowl; combine flour, pecans, Graham cracker crumbs, brown sugar, cinnamon, salt, butter, and mix until topping looks and feels like wet sand.

3

Lightly spray an 8-inch x 8-inch baking dish with non-stick cooking spray. Add 1½ cups pecan crumble topping mixture, and reserve remainder. Press crust down until packed evenly across the bottom of the pan. Place reserved crumb mixture on a sheet tray lined with parchment paper. Bake crust and reserved crumb mixture for 8- 10 minutes. Remove from oven and cool.

4

Place Queso Fresco Cheese in a food processor and process for 2 to 3 minutes. Add pumpkin purée, sugar, eggs, pumpkin spice, and process for 2 to 3 minutes. Scrape sides and bottom with a rubber spatula. Process for 1 minute or until smooth. Pour pumpkin cheesecake mixture into prepared baking dish and bake for 38 to 40 minutes. Remove from oven and allow cheesecake to cool at room temperature.

5

Pre-heat a small non-stick skillet for 1 minute over medium-high heat; add Sour Cream, sugar, vanilla extract, and pumpkin spice. Simmer 3 to 4 minutes, stirring constantly, or until mixture is thick and smooth.

6

Evenly spread pumpkin spice cream over baked cheesecake. Top with reserved pecan crumble topping, and cool at room temperature for 30 minutes. Refrigerate Pumpkin Cheesecake Squares for 2 hours or until firm before slicing. Serve and enjoy!
Comments
WHERE TO BUY
Missing some of the ingredients produced by VV Supremo? Find the nearest store in your area:
Find Store Now!
Store Locator
Great Places You Can Find
Our Products

Find A Store Now!
Available At
Great Places You Can Find
Our Products