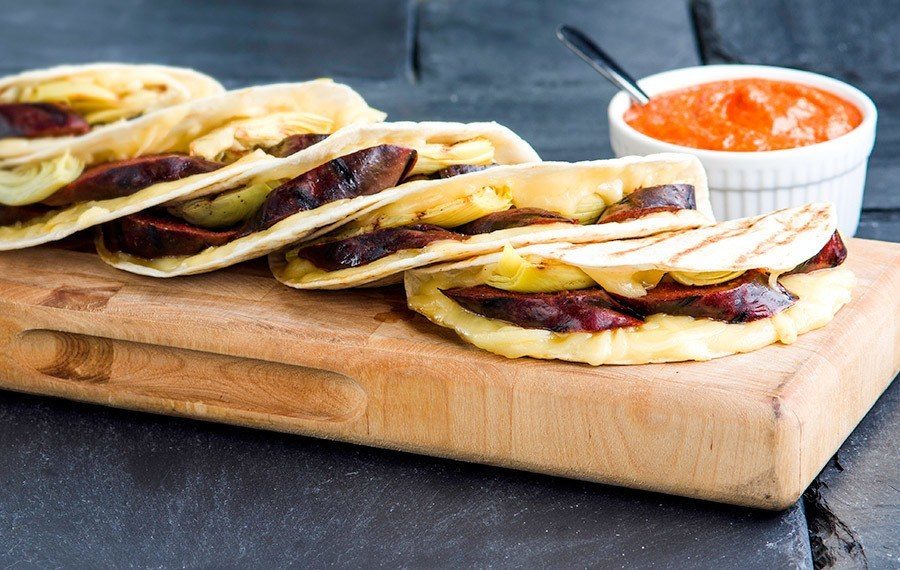 Spanish Morcilla quesadilla
by
V & V Supremo Foods, Inc.
Blood sausage has been prepared around the world for centuries. Try this Spanish spin on a classic quesadilla with our Chihuahua® Cheese and Romesco sauce.


Ingredients
3 links of fully cooked morcilla in a natural casing (approximately 6.oz. each link)

4 whole artichoke hearts (from can), patted dry, cut in halves

1/8 tsp. kosher salt

1/8 tsp. ground black pepper

Cooking spray

8 flour tortillas (6 inch)

2 cups Shredded Chihuahua® Brand Quesadilla Cheese from V&V SUPREMO®
6 Steps to complete
1

Heat a cast iron griddle (grill marks up) over medium heat for 2 minutes.

2

Place morcilla link on the griddle and cook for 4 minutes rotating constantly. Remove from de griddle and cut on a bias into ¼ in. slices.

3

Season artichokes with salt and ground black pepper.

4

Spray griddle with cooking spray. Place artichokes on griddle. Roast for approximately 1½ minutes on each side, or until grill marks form. Remove from griddle. When cool enough to handle, cut each piece into half again.

5

Lower the heat to medium-low. It is important that the griddle temperature is not too high, so that the tortillas do not harden or overcook before the cheese fully melts. Heat tortillas for 30 seconds on one side, flip tortillas. Add to each ¼ cup Shredded Chihuahua® Brand Quesadilla Cheese from V&V SUPREMO®, 2 pieces of artichoke, and 3 slices of morcilla to each tortilla. Fold tortillas in half.

6

Using a spatula, press down on the quesadilla and cook each side for approximately 1 minute. Cheese should be fully melted and golden brown grill marks should be visible on both sides of quesadillas. Repeat with remaining tortillas. Serve quesadillas with Romesco Sauce. (See recipe) Enjoy!
Comments
WHERE TO BUY
Missing some of the ingredients produced by VV Supremo? Find the nearest store in your area:
Find Store Now!
Store Locator
Great Places You Can Find
Our Products

Find A Store Now!
Available At
Great Places You Can Find
Our Products