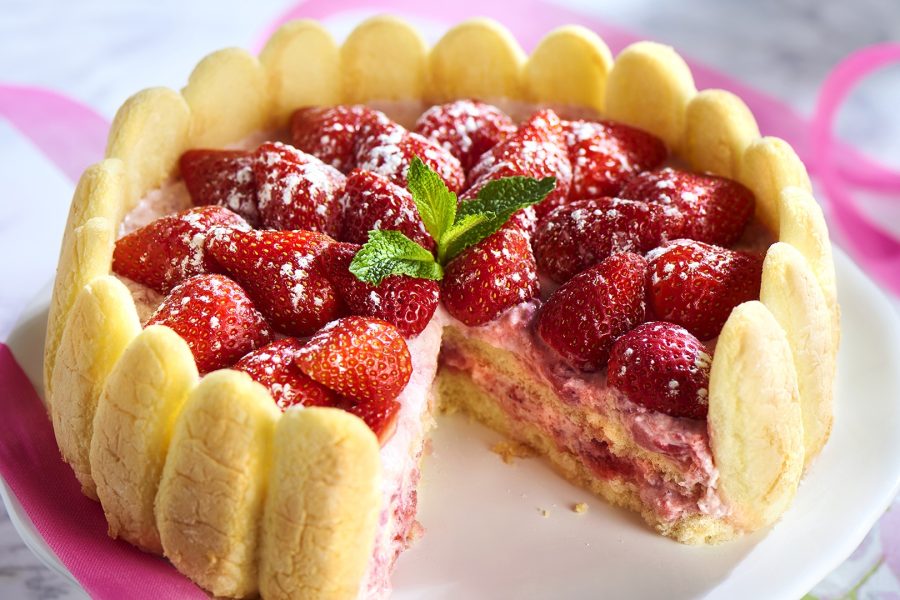 Strawberry Charlotte Cake
by
V & V Supremo Foods, Inc.
Our Strawberry Charlotte Cake is a creamy dessert filled with Supremo® Brand Mexican Sour Cream from V&V Supremo® and strawberries. Soft lady finger cookies form the crust of this delicious ice-box cake that is easy to prepare and too delicious to miss.


Ingredients
2 (3 oz.) pkg. soft lady finger cookies

1 (14 oz.) pkg. frozen strawberries, thawed, rough chopfrozen strawberries, thawed, rough chop

½ cup granulated sugar

½ Tbsp. fresh lemon juice

1 (15 oz.) Supremo® Brand Mexican Sour Cream from V&V Supremo®

¼ cup confectioner's sugar

1 Tbsp. vanilla extract

¼ cup cold water

2 (0.25 oz.) env. unflavored gelatin
7 Steps to complete
1

Line the sides and bottom of an 8½-inch spring form pan with lady finger cookies. Set aside.

2

In a medium bowl; combine strawberries, ½ cup sugar, and lemon juice. Mix until well combined, cover, and set aside until needed.

3

In a medium bowl; combine Sour Cream, confectioner's sugar, and vanilla. Whisk until all ingredients are full incorporated, cover, and refrigerate until needed.

4

In a small pot; combine cold water and gelatin. Stir until fully dissolved and simmer for 1 minute over low heat, or until fully dissolved.

5

Add warm gelatin to strawberry mixture and stir until thoroughly combined. Carefully fold strawberry gelatin mixture into Sour Cream until just combined.

6

Spoon half of the strawberry cream over ladyfinger cookies in cake pan, smoothing top. Cover with a layer of ladyfingers, and top with remaining strawberry cream. Smooth top with a spatula until even. Refrigerate for a minimum of 2 hours, or overnight for best results.

7

Dissolve 1 tablespoon granulated sugar in tepid water. Decorate cake with fresh strawberries. Lightly brush strawberries with sugar water to make them glossy. Garnish Strawberry Charlotte Cake with mint sprig, dust with confectioner's sugar, and wrap with ribbon if desired. Serve and enjoy!
Comments
Related products
WHERE TO BUY
Missing some of the ingredients produced by VV Supremo? Find the nearest store in your area:
Find Store Now!
Store Locator
Great Places You Can Find
Our Products

Find A Store Now!
Available At
Great Places You Can Find
Our Products