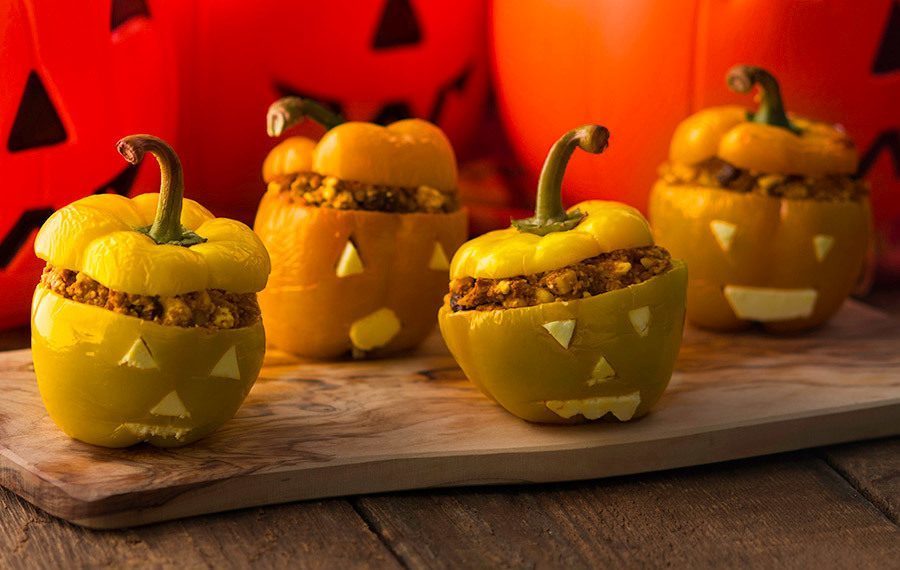 Stuffed Jack-O'-Lantern Bell Pepper
by
V & V Supremo Foods, Inc.
Your family will love our kid-friendly stuffed peppers with a halloween twist. Colorful bell peppers are stuffed with a delicious sweet and savory picadillo-style filling that tastes as good as it looks.


Ingredients
6 medium yellow or orange bell peppers

1 (14 oz.) pkg. V&V SUPREMO® Brand Queso Fresco Cheese

1 (14 oz.) pkg. Supremo® Brand Pork Chorizo from V&V SUPREMO®

1 cup medium onion, diced

1 lb. red potatoes, cooked until just tender, ½ inch diced

½ cup raisins

½ Cup tomato sauce

½ cup slivered almonds, toasted

½ tsp. ground cinnamon
8 Steps to complete
1

Preheat oven at 400°F.

2

Cut the tops of the peppers while maintaining the stems intact. Set aside. Using a paring knife cut the veins and with a small spoon remove the seeds.

3

Carve your desire face onto the peppers. Reserve the pieces. Cut 3 ¼ inch slices of Queso Fresco Cheese. Place the reserve pieces of pepper over the cheese slices and cut the shapes with a paring knife. Carefully transfer the cheese shapes to a plate, cover, and place in the refrigerator. Crumble the rest of the queso fresco plus the left over from the slices. Set aside.

4

Place peppers with tops on a baking sheet and bake for 20 minutes.

5

Meanwhile, preheat a medium skillet over medium heat for 1 minute. Remove the plastic casing from Chorizo and cook for 10-12 minutes. Break up chorizo while it's cooking. Add onions and cook for 1 minute.

6

Add potatoes, raisins, tomato sauce, almonds, cinnamon, and the crumbled queso fresco cheese. Mix and continue to cook for 3 to 5 minutes. Set aside.

7

After 20 minutes, remove the peppers from the oven and place on a cooling rack. Stuff them with approximately 1 cup of the picadillo mixture, cover with tops, return to the baking sheet and bake for an additional 3 minutes.

8

Remove stuffed peppers from the oven, carefully fill in the face with the pieces of cheese. Served immediately and enjoy!
Comments
WHERE TO BUY
Missing some of the ingredients produced by VV Supremo? Find the nearest store in your area:
Find Store Now!
Store Locator
Great Places You Can Find
Our Products

Find A Store Now!
Available At
Great Places You Can Find
Our Products