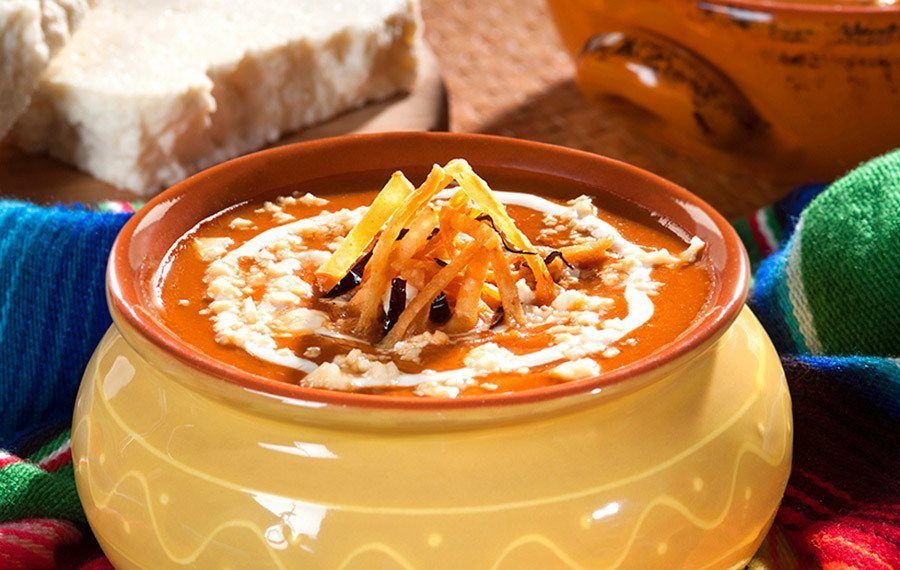 Tarascan Soup
by
V & V Supremo Foods, Inc.
There's a delicious soup from the culinary traditions of Michoacán, México that you need to try. It's called Tarascan Soup and the recipe is right here for your pleasure!


Ingredients
1 (8.8 oz.) pkg. Queso Fresco Cheese from V&V SUPREMO®, crumbled

1 (15 oz.) Supremo® Mexican Sour Cream from V&V SUPREMO®

1 large onion, diced

10 large cloves garlic, minced

6 plum tomatoes, roasted and peeled

3 ancho peppers, stems and seeds removed, toasted and softened in water

2 ancho peppers, stems and seeds removed, cut into strips

4 cups cooked pinto beans, with a little of their broth if homemade

4 cups chicken broth

6 corn tortillas, cut into ¼ inch wide strips

2 Tbsp. vegetable oil

2 cups vegetable oil for frying

¼ cup epazote (optional), chopped
10 Steps to complete
1

Place softened anchos and roasted tomatoes in the blender. Blend well. Strain puree through sieve into a bowl, using a ladle to press through. Discard solids left in sieve.

2

Rinse blender and pour chicken broth and beans in the blender. Blend well. And set aside.

3

Preheat a large saucepan over medium heat for one minute. Add 2 Tbsp. of oil and heat for 1 minute. Add onions and cook, stirring for 5 minutes.

4

Add garlic. Cook, stirring for 3 minutes more.

5

Add tomato and chile puree. Cook for 10 minutes, stirring occasionally.

6

Add bean and broth mixture and bring to a boil. Reduce heat to low, and simmer, stirring often for 20 minutes to thicken the soup.

7

Remove from heat. And add salt to taste. (About 2 tsp.)

8

Meanwhile, place a sauté pan over medium high heat for one minute. Add vegetable oil to reach approximately 1/2 inch. When oil shimmers, or is 350°F, place the strips of tortillas in the oil and fry until crispy. Remove tortillas and place on paper towels to drain.

9

Place ancho strips in the same oil and fry very briefly. (About 5 seconds, or until toasted) Remove from oil, and place on paper towels to drain.

10

Ladle soup into bowls. Garnish with queso fresco, crema, tortilla and ancho strips. (Chopped epazote garnish is optional.)
Comments
Related products
WHERE TO BUY
Missing some of the ingredients produced by VV Supremo? Find the nearest store in your area:
Find Store Now!
Store Locator
Great Places You Can Find
Our Products

Find A Store Now!
Available At
Great Places You Can Find
Our Products