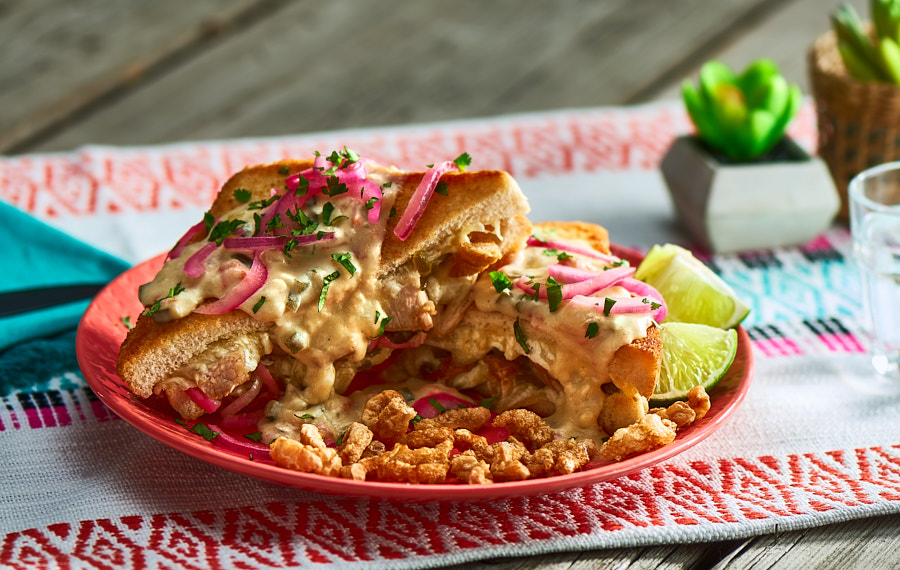 Tequila Cheese Smothered Pork Sandwich
by
V & V Supremo Foods, Inc.
There's no better way to kick off an amazing weekend than with this Tequila Cheese Smothered Pork Sandwich! Deliciously crafted, this recipe will hit all the right spots!


Ingredients
Lime Pickled Onion + Pork Meat
½ cup red onion, sliced in half moons

¼ cup fresh lime juice

½ Tbsp. Kosher salt

¼ lb. boneless pork chop

1 Tbsp. lime juice

¼ tsp. kosher salt

⅛ tsp. ground black pepper

⅛ tsp. onion powder

⅛ tsp. garlic powder

½ Tbsp. olive oil
6 Steps to complete
1

Pickled onion: Place sliced onion in a bowl, add lime and salt. Stir to mix well. Let sit for 15 minutes. Drain onions and set aside.

2

Pork chop: Season each side of the pork chop with lime juice, salt, black pepper, onion and garlic powder. Set aside.

3

Preheat a pan for 1 minute over medium heat. Add ½ Tbsp. oil and heat for 1 minute. Place pork chop in the pan. Cook for 3 minutes on one side. Flip pork chop. Cover the pan with a tight-fitting lid and continue to cook for 3 more minutes. Remove from the pan and cut into small bite size pieces. Divide meat into 2 portions. Keep warm and set aside.

4

Tequila Fundido: Preheat small nonstick pan with olive oil for 1 minute over medium heat, sauté onion for 1 minute. Add garlic and sauté for 30 seconds. Mix in tomato, pickled jalapeño, white pepper, sour cream and ¾ cup Shredded Mexican 3 Cheese Blend. Mix well and cook for 4 minutes, stirring constantly until melted. Stir in Tequila and turn heat to low. Continue to cook for 8 minutes. Keep warm, and set aside.

5

To assemble: Preheat a nonstick pan or griddle for 1 minute over medium heat. Melt 1 Tbsp. of butter. Place 2 slices of bread over the butter. Add ¼ cup of cheese evenly on top of one slice of bread. Scatter 1 portion of the cooked pork, 1 Tbsp. pickled onion, 1 Tbsp. pickled jalapeños, 1 Tbsp. chicharrones, ¼ cup of cheese, and top with the other bread, buttered side up. Turn heat to low and let the sandwich cook on one side until lightly crispy. Flip and repeat until all remaining cheese has melted and both sides are golden brown and toasty. Repeat the process with the remaining ingredients.

6

Cut sandwich diagonally in half. Plate sandwich and add half of the Tequila Fundido cheese. Garnish with about 2 Tbsp. pickled red onion, cilantro, chicharrones, and lime wedges. Serve warm and enjoy!
Comments
WHERE TO BUY
Missing some of the ingredients produced by VV Supremo? Find the nearest store in your area:
Find Store Now!
Store Locator
Great Places You Can Find
Our Products

Find A Store Now!
Available At
Great Places You Can Find
Our Products