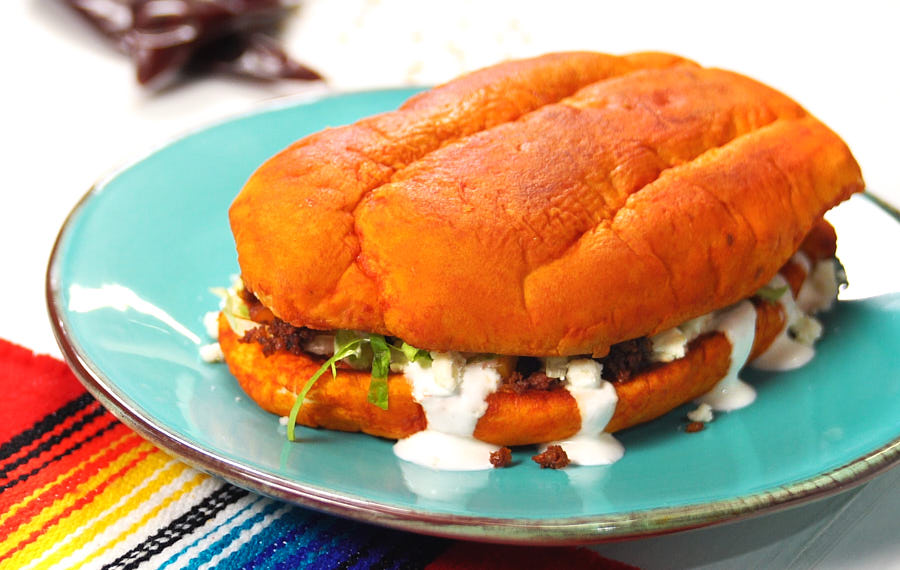 Chorizo and Potato Pambazos
by
V & V Supremo Foods, Inc.
Have you ever tried Chorizo and Potato Pambazos? Here's a homemade version of an iconic Mexico City street food known as Pambazos, made with a savory filling of Chorizo and Potatoes, Queso Fresco and Supremo® Sour Cream.


Ingredients
Salsa
8 dried guajillo chiles, remove stems, seeds, veins

¼ white onion, chopped

1 garlic clove

1 tsp kosher salt

1 Tbsp. olive oil
5 Steps to complete
1

Place the peppers in a saucepan. Add enough water to cover the peppers. Bring water to a boil at medium heat for 5 minutes or until tender. Transfer peppers to a blender. Reserve ½ cup of water. Add onion, garlic, salt, reserved water, place lid and blend on high speed for 2 minutes. With a rubber spatula, work the puree through a mesh strainer into a bowl and discard skins and seeds. Set aside.

2

Preheat a saucepan with 1 tablespoon of olive oil for 2 minutes at medium heat. Add salsa and cook for 5 minutes. Set aside.

3

Cook chorizo for 2 minutes. Add onion and sauté for 1 minute. Mix in potatoes. Cover the pan and cook for 15 minutes or until the potatoes are tender, stirring occasionally. Divide mixture into 4 portions. Set aside.

4

Preheat a medium pan with ½ tablespoon of olive oil for 1 minute at medium heat.

5

Brush each side of the bread with the salsa. Toast bread in the pan for about 1 minute on each side. Remove from the pan and fill with one portion of the chorizo mixture. Add 2 tablespoons of Sour Cream and ¼ cup of the crumbled Queso Fresco cheese. Add a layer of lettuce and top with the other slice of bread. Serve and Enjoy!
Comments
Related products
WHERE TO BUY
Missing some of the ingredients produced by VV Supremo? Find the nearest store in your area:
Find Store Now!
Store Locator
Great Places You Can Find
Our Products

Find A Store Now!
Available At
Great Places You Can Find
Our Products