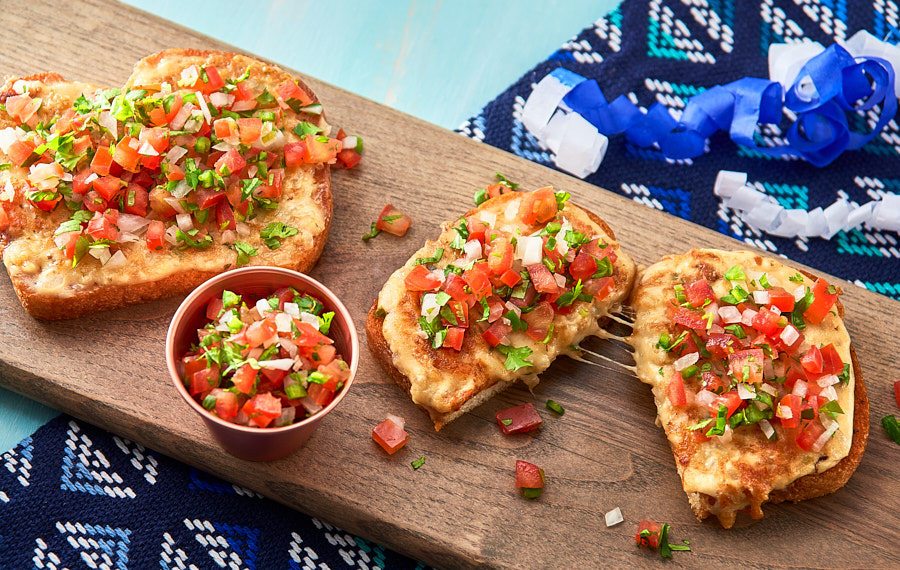 Tequila Fiesta 2 Cheese Sandwich
by
V & V Supremo Foods, Inc.
Grilled cheese will never taste the same once you try our Tequila Fiesta 2 Cheese Sandwich.
In this recipe the tequila not only shines through, but gives the Queso Fundido with Tequila a luscious texture.


Ingredients
Pico de Gallo
½ cup tomato, seeded, diced

2 Tbsp. white onion, finely chopped

2 Tbsp. cilantro, chopped

½ Tbsp. serrano pepper, seeded and finely chopped

½ Tbsp. fresh lime juice

1/8 tsp. kosher salt
6 Steps to complete
1

Pico de Gallo: In a small bowl, combine tomato, onion, cilantro, lime juice, serrano pepper, and salt. Mix and set aside until ready to use.

2

In a small pan, heat olive oil for 1 minute over medium heat. Mix in onion, and sauté for 1 minute. Add garlic, serrano pepper, oregano, rosemary, thyme, white pepper, and sauté for 1 minute. Mix in sour cream, Chihuahua® and Cotija cheese. Stirring constantly until the cheese is completely melted.

3

Carefully, stir in Tequila, keep stirring until the cheese is completely mixed in with the tequila. Turn heat to low and continue to cook for 8 minutes, stirring occasionally. Once done, keep warm and set aside.

4

Preheat a nonstick frying pan or griddle over medium heat for 1 minute.

5

Butter the pan with ½ Tbsp. butter. Place the two slices of bread on top of the melted butter. Toast for about a minute, add remaining butter to the pan. Using a spatula, flip bread slices into the melted butter.

6

Add half of the queso fundido mixture on each slice of bread. Raise heat to high. Flip each slice, and sear cheese for 10-15 seconds. Remove slices from the pan to a plate. Garnish each slice with Pico de Gallo. Enjoy!
Comments
WHERE TO BUY
Missing some of the ingredients produced by VV Supremo? Find the nearest store in your area:
Find Store Now!
Store Locator
Great Places You Can Find
Our Products

Find A Store Now!
Available At
Great Places You Can Find
Our Products