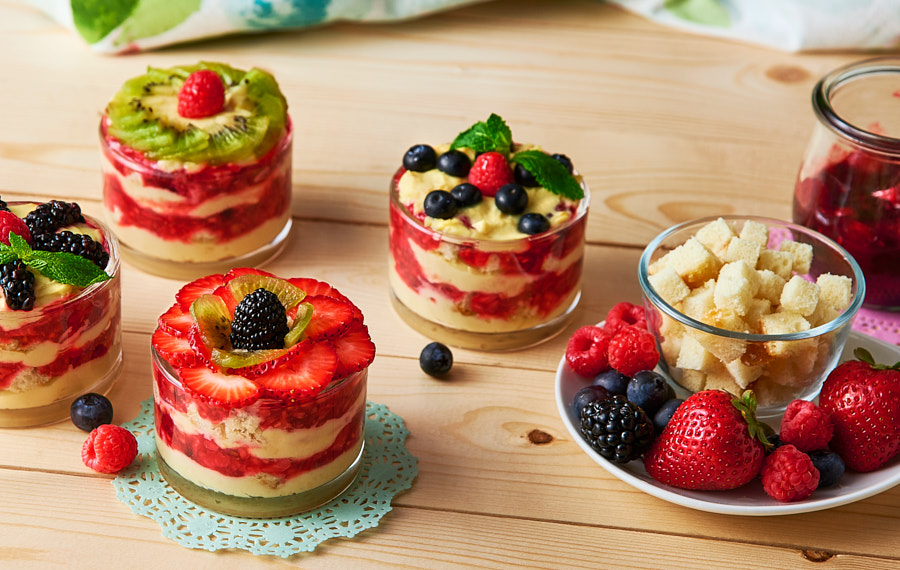 Three Berry Trifle
by
V & V Supremo Foods, Inc.
The Three Berry Trifle is an English dessert from the 1700's and in its history, has not stopped astounding. Take part of its story and try today this delicious combination of cream, fruits, sponge cake, and much more!
¡The temptation will be impossible to resist!


Ingredients
Berries Sauce
1½ cups strawberries chopped

½ cup blackberries, chopped

1 cup raspberries

1/3 cup granulated white sugar

1 Tbsp. corn starch

½ tsp. lemon zest
4 Steps to complete
1

Berries Sauce: In a small pot, mix all the berries with sugar, lemon zest, and corn starch. Cook over medium-high heat for 5 minutes. Set aside, let cool completely.

2

Cream Filling: In a bowl, whisk sour cream, instant pudding, confectioners' sugar, vanilla, lemon juice, lemon zest, and liqueur (if using any). Whisk for 2 minutes until blended.

3

Dissolve sugar in water and set aside.

4

Assembling Trifles: Layer the trifles, starting with about 2 heaping Tbsp. of the cream filling, then about 2 Tbsp. cake cubes, and 1 heaping Tbsp. Berries Sauce. Repeat layers once. Cream, cake, Berries Sauce, ending with a smooth cream layer. Garnish with remaining fruit as desired. Once done, brush fruit with the dissolve sugar. Refrigerate for 1 hour before serving. Enjoy!
Comments
Related products
WHERE TO BUY
Missing some of the ingredients produced by VV Supremo? Find the nearest store in your area:
Find Store Now!
Store Locator
Great Places You Can Find
Our Products

Find A Store Now!
Available At
Great Places You Can Find
Our Products