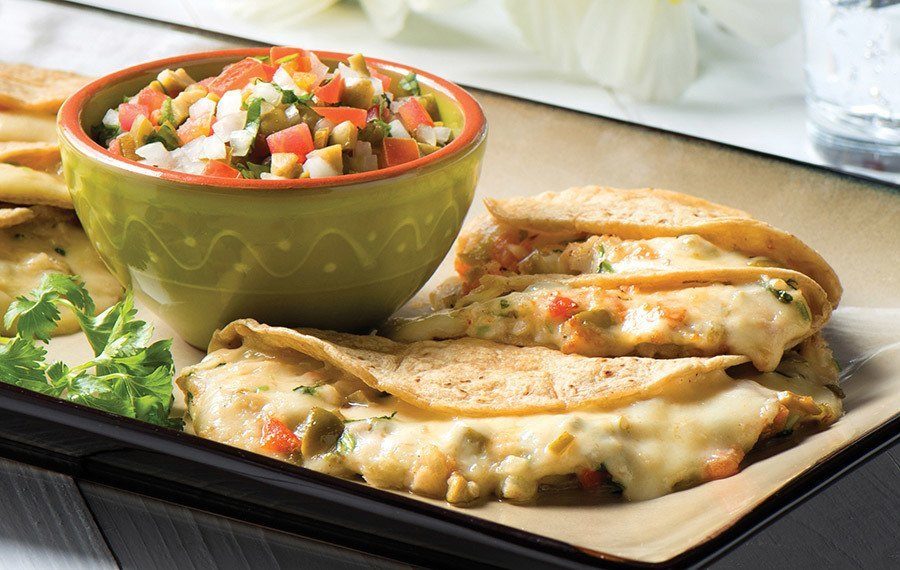 Tilapia Quesadillas
by
V & V Supremo Foods, Inc.
Tilapia Quesadillas to taste and remember your last vacations with a beautiful ocean breeze.


Ingredients
4 oz tilapia fillet

1 Tbsp olive oil

1/8 tsp fresh ground black pepper

¼ tsp. salt

¼ cup onion, diced

1 large garlic clove, finely chopped

2 tsp pitted green olives, minced

1 pickled jalapeño, seeded, minced

¼ cup tomato seeded, diced

1 Tbsp fresh lime juice

2 Tbsp fresh cilantro, chopped

6 corn tortillas

1½ cups Shredded Chihuahua® Brand Quesadilla Cheese from V&V SUPREMO®
5 Steps to complete
1

Preheat a nonstick skillet over medium heat for 1 minute. Add oil and heat for 1 minute more. Place fish filet in skillet. Season with salt and pepper. Flip fish, season again with salt and pepper. Cook for 2 minutes. Flip fish and cook for another 2 minutes.

2

In same skillet, add onion and garlic around fish. Sauté for one minute, stirring. Break up fish with spatula. Add olives, jalapeño, tomatoes, and lime juice. Cook for another minute stirring to combine all ingredients. Remove from heat. Mix in cilantro. Set aside.

3

Preheat a skillet or pan for 1 minute over medium-low heat. It's important that the skillet temperature is not too high, so that the tortillas do not harden or overcook before the cheese fully melts.

4

Add as many tortillas as will fit in pan in single layer. Heat tortillas for 1 minute, flip tortillas and add ¼ cup of Shredded Chihuahua® Brand Quesadilla Cheese from V&V SUPREMO® to each tortilla and 2 Tbsp. of tilapia mixture. Fold and allow cheese to melt, pressing down lightly with spatula. Flip quesadillas when needed to fully melt cheese and lightly brown both sides of quesadillas. Repeat with remaining tortillas.

5

Serve quesadillas with lime wedges on the side.
Comments
WHERE TO BUY
Missing some of the ingredients produced by VV Supremo? Find the nearest store in your area:
Find Store Now!
Store Locator
Great Places You Can Find
Our Products

Find A Store Now!
Available At
Great Places You Can Find
Our Products