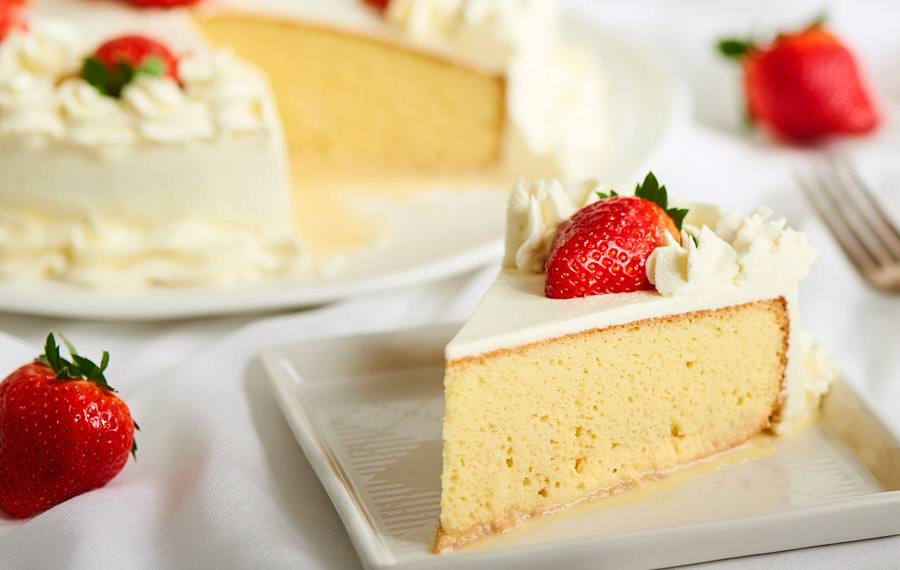 TRES LECHES CAKE
by
V & V Supremo Foods, Inc.
The Tres Leches Cake is a popular Mexican dessert made with fluffy sponge cake soaked in Supremo® Cream and Rompope Liqueur. The delicious dairy richness of Supremo® Cream makes the cake moist, but not soggy. Perfecto para dessert!


Ingredients
11 Steps to complete
1

Preheat oven to 350°F. Cut a circle from a sheet of parchment paper to match the size of a round 9-inch cake pan and place paper inside the pan. Lightly oil prepared pan with non-stick cooking spray and set aside until needed.

2

In large bowl; whip egg whites at high speed with a hand blender for 3 to 5 minutes or until stiff peaks form. Add yolks one at a time and wait until yolk is fully incorporated before adding the next yolk.

3

Slowly add granulated sugar in batches and continue to mix until fully incorporated. Add vanilla and mix for 30 seconds to 1 minute or until egg mixture is smooth.

4

Add flour to egg mixture in batches and continue mixing at medium speed until flour is fully incorporated. Pour batter into prepared cake pan.

5

Bake for 30 to 35 minutes or until a toothpick inserted into the center of the cake comes out clean. Allow cake to cool on the counter top for 15 to 30 minutes, remove cake from pan, discard the paper liner, and place on a plate. Set aside until needed.

6

In a blender, combine evaporated milk, condensed milk, Supremo® Sour Cream, Rompope liqueur, and blend for 15 to 30 seconds or until all ingredients are well blended.

7

Poke several holes across the surface of the cake using a skewer.

8

Slowly pour soaking cream over the cake and allow cake to absorb liquid. Refrigerate soaked cake for a minimum of 1 hour, or over-night for best results.

9

In a medium bowl; combine Rancherito® Sour Cream, Rompope liqueur, vanilla extract, confectioners' sugar, and whip on hi-speed with a hand blender for 3 to 5 minutes or until stiff peaks form. Reserve 1 cup frosting.

10

Spread whipped Rancherito® cream frosting over the whole cake, transfer reserved 1 cup frosting to a pastry bag, and pipe decorations around the top and sides. Dissolve remaining tablespoon granulated sugar in 1 tablespoon of room temperature water.

11

Top decorated Tres Leches Cake with halved strawberries, placing the whole strawberry in the center. Lightly brush strawberries with sugar water. Slice, serve, & enjoy.
Comments
WHERE TO BUY
Missing some of the ingredients produced by VV Supremo? Find the nearest store in your area:
Find Store Now!
Store Locator
Great Places You Can Find
Our Products

Find A Store Now!
Available At
Great Places You Can Find
Our Products