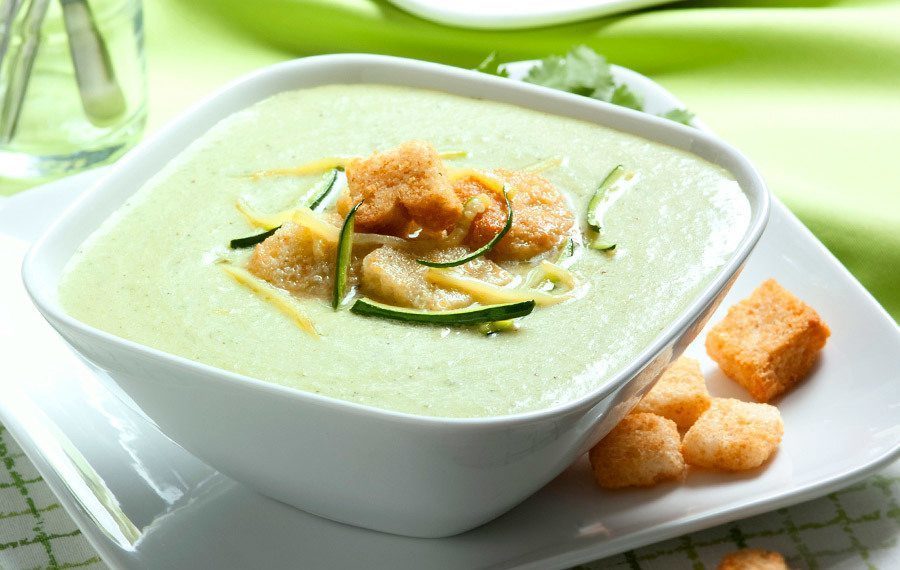 Zucchini Cream Soup
by
V & V Supremo Foods, Inc.
Prepare this delicious comfort soup today and enjoy the smells and tastes of this amazing recipe.


Ingredients
1 (15 oz.) Supremo® Brand Mexican Sour Cream from V&V SUPREMO®

1½ cups Shredded Chihuahua® Brand Quesadilla Cheese from V&V SUPREMO®

2½ lbs. zucchini, end trimmed off (reserve 1 lb. for garnish)

4 cups chicken broth

1½ cups onion, thinly sliced

4 large cloves garlic, minced

2 Tbsp. unsalted butter

2 Tbsp. vegetable oil

to taste black pepper, ground

to taste salt
10 Steps to complete
1

Cut 1½ lbs. of zucchini in half crosswise then cut lengthwise into ¼" slices.

2

Place a medium non-stick saucepan over medium heat for 1 minute. Add 1 Tbsp. oil and heat for another minute.

3

Add the slices of zucchini in a single layer. Cook for 2 minutes on each side or until they get light brown on both sides. Place on paper towels to absorb excess oil. Repeat with remaining sliced zucchini.

4

Place medium saucepan over medium heat for 1 minute. Add 1 tablespoon of butter. When melted, add onion and sauté for 3 minutes. Add garlic and cook for another minute, stirring constantly.

5

Place chicken broth, zucchini, onion and garlic in the blender and blend to a creamy consistency.

6

Wipe saucepan used for onions with paper towel, and place over medium heat. Add remaining butter, Add mixture, and bring to a simmer, whisking periodically. Whisk in sour cream, and bring to boil. Season with salt and black pepper to taste.

7

In a small bowl, whisk together the cornstarch with1 Tbsp. of water until smooth. Stir cornstarch into soup. Bring to a boil, and cook for 3 minutes stirring.

8

Reduce heat to low. Add cheese, and simmer for 2 more minutes or until cheese melts. Remove from heat.

9

Julienne remaining zucchini. Place non-stick pan over medium heat for 2 minutes. Add remaining oil. Add zucchini, and cook until just tender. Season with salt and black pepper.

10

Ladle the soup in 6 bowls and add julienned zucchini.
Comments
WHERE TO BUY
Missing some of the ingredients produced by VV Supremo? Find the nearest store in your area:
Find Store Now!
Store Locator
Great Places You Can Find
Our Products

Find A Store Now!
Available At
Great Places You Can Find
Our Products