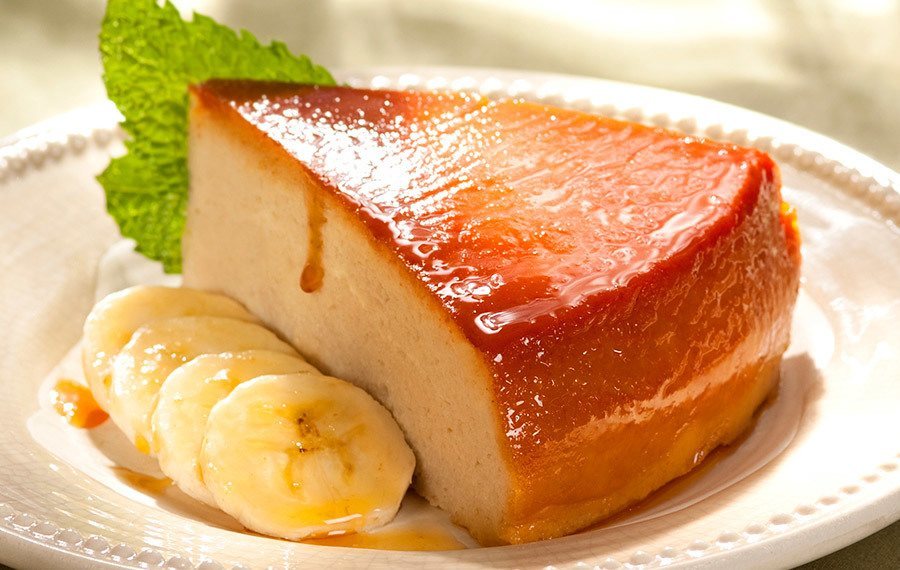 Banana Flan
by
V & V Supremo Foods, Inc.
What better way to close a great dinner than with a great dessert? Try this Banana Flan recipe for the perfect finish to a perfect day.


Ingredients
1 (15 oz.) Rancherito® Brand Mexican Style Sour Cream From V&V SUPREMO®

6 ripe bananas, (2 for garnish)

1 (14 oz.) can condensed milk

7 large eggs

2 Tbsp. vanilla extract

1 cup sugar (for caramel)
7 Steps to complete
1

Place the rest of the ingredients (except sugar and 2 bananas for garnish) in the blender and blend well.

2

Place the mixture into a 9 inch round metal cake pan that was previously caramelized with sugar. Cover the cake pan with foil, sealing tight.

3

Use a pot or pan that is big enough to hold the cake pan when covered. Place cake pan in the bigger pan. Add enough hot water to reach ¾ of an inch around the cake pan. Cover the larger pan and place over high heat until water comes to boil. Reduce heat to medium and cook for 50 minutes.

4

Check water level every 15 minutes. The water level should not drop lower than halfway up the cake pan. If necessary, add boiling water to the pan.

5

Carefully remove the cake pan from the water. Allow to cool at room temperature for 2 hours. Refrigerate for 3 hours or overnight.

6

To remove flan from pan, use a small knife go around between the flan and cake pan. Place a large plate upside down over the cake pan. Carefully invert flan onto the plate.

7

Serve and garnish with thin slices of caramelized bananas.
Comments
WHERE TO BUY
Missing some of the ingredients produced by VV Supremo? Find the nearest store in your area:
Find Store Now!
Store Locator
Great Places You Can Find
Our Products

Find A Store Now!
Available At
Great Places You Can Find
Our Products