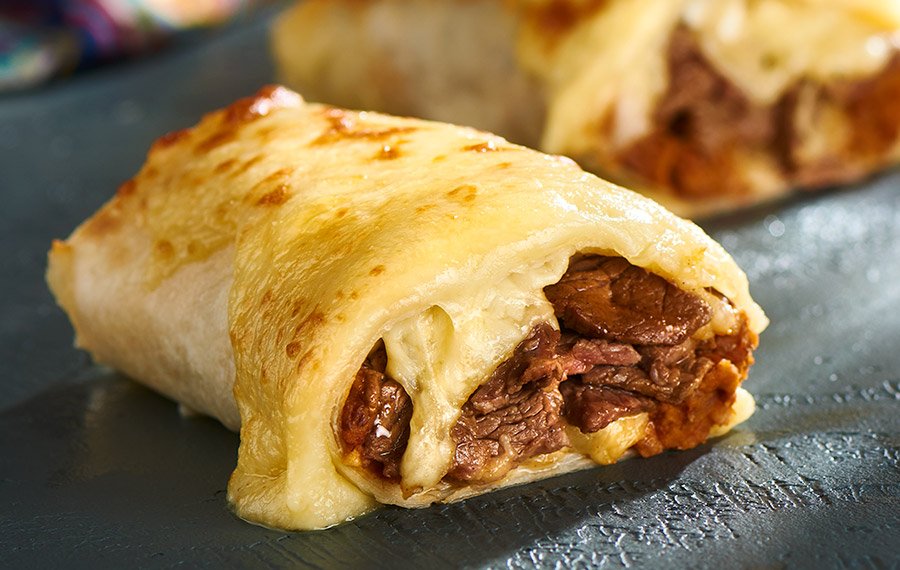 Burrito Suizo
by
V & V Supremo Foods, Inc.
Burrito Suizo is Spanish for a 'Swiss-style' burrito that gets covered with melted cheese. Our take on this classic dish is a combination of carne asada steak, Chorizo refried beans, and melted Chihuahua® Cheese wrapped in a warm flour tortilla. The extra layer of golden bubbly Chihuahua® over the top will take to you to a cheesy paradise!


Ingredients
½ lb. sirloin steak

½ Tbsp. vegetable oil

1 Tbsp. Worcestershire sauce

1 Tbsp. fresh lime juice

¼ tsp. Kosher salt

¼ tsp. ground black pepper

¼ tsp. garlic powder

¼ tsp. onion powder

½ link from (14 oz.) pkg. Pork Chorizo from V&V SUPREMO®

2 Tbsp. white onion, small dice

1 clove garlic, crushed

1 cup Pinto Beans ...

see recipe

or your favorite canned beans

2 (12-inch) flour tortillas, warmed

4 cups Shredded Chihuahua® Brand Quesadilla Cheese from V&V SUPREMO®, divided
6 Steps to complete
1

Preheat oven to 400°F

2

In a bowl; combine steak, oil, Worcestershire sauce, lime juice, salt, pepper, garlic powder, and onion powder. Mix until steak is evenly coated with oil and seasonings. Set aside until needed.

3

Preheat a skillet for 1 minute over medium heat. Remove the plastic casing from Chorizo. Cook for 2 to 3 minutes, crumbling with a spoon while cooking. Add onion and garlic. Cook for 1 minute and add beans. Mash beans and mix until all ingredients are fully incorporated. Continue to cook for 2 to 3 minutes. Divide into 2 portions, cover, and keep warm until needed.

4

Preheat a skillet for 2 minutes over medium-high heat. Cook steak for 2 to 3 minutes on each side or until steak reaches an internal temperature of 155°F. Remove from heat and allow steak to rest for 1 to 2 minutes. Transfer steak to a cutting board and slice into thin bite-sized pieces. Divide into 2 portions, cover, and keep warm until needed.

5

Place tortillas on a clean work surface. Top each tortilla with 1 portion Chorizo Refried Beans, ½ cup Shredded Chihuahua® cheese, 1 portion steak, and an additional ½ cup Chihuahua® Cheese. Fold in the sides of the tortilla over the filling and roll tightly from the bottom up.

6

Place burritos into a cast-iron skillet or a broiler safe baking dish seam side down. Top each burrito with 1 cup Chihuahua® Cheese and bake for 7 to 9 minutes. Set broiler to 500°F and continue to cook for 1 to 2 minutes or until cheese is golden brown. Serve Burritos Suizos & enjoy!
Comments
Related products
WHERE TO BUY
Missing some of the ingredients produced by VV Supremo? Find the nearest store in your area:
Find Store Now!
Store Locator
Great Places You Can Find
Our Products

Find A Store Now!
Available At
Great Places You Can Find
Our Products