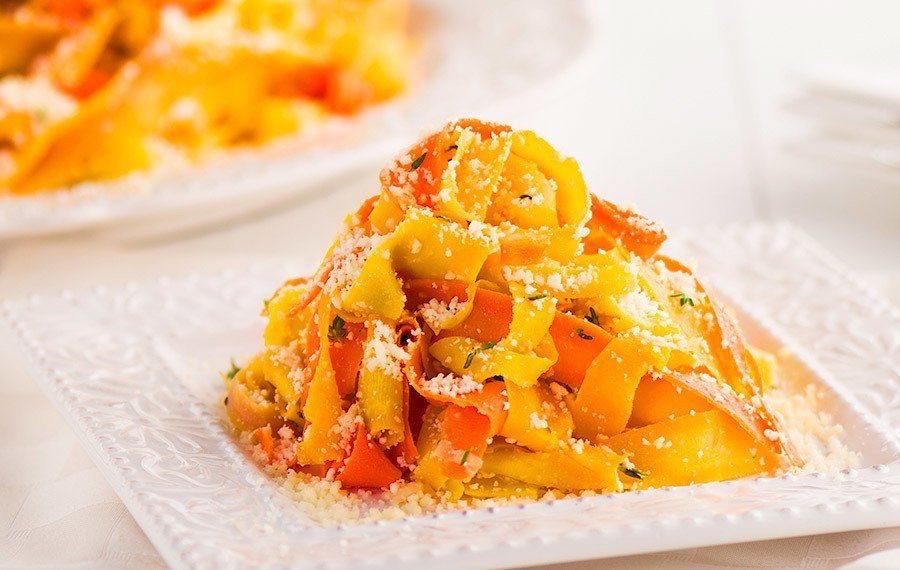 Carrot Pappardelle
by
V & V Supremo Foods, Inc.
No special kitchen gadgets are needed to create this elegant pasta alternative. A simple vegetable peeler is all you need to make colorful Carrot Pappardelle quickly and easily.


Ingredients
3 bunches rainbow carrots (approximately 1 lb. each), washed, peeled

4 Tbsp. unsalted butter, cubed

2 Tbsp. minced shallot

2 tsp. minced garlic

1 tsp. fresh thyme

¾ Cup Grated Sierra® Brand Cotija Cheese from V&V SUPREMO®

½ tsp. ground white pepper

Salt to taste
7 Steps to complete
1

Place a carrot on a cutting board and cut the ends off. Hold the carrot by the thicker end and slide a y-peeler away from you. This will create wide ribbons. Place the ribbons in a bowl with cold water until ready to use. Repeat with the remaining carrots.

2

Fill a medium pot half-way with water. Bring to a boil and add carrot ribbons. Boil for 1 minute. Strain carrot ribbons in a colander and shake off excess water.

3

Meanwhile, preheat a large non-stick skillet over medium heat for 1 minute.

4

Add butter to the skillet. Once it is fully melted, add the shallot and garlic. Sauté for 1 minute, stirring constantly.

5

Add carrots to the skillet. Use tongs to coat the carrots in the butter. Continue to toss the carrots with tongs throughout the entire cooking process. They should remain fluffy and maintain their shape.

6

After 2 minutes, add the thyme and toss. Continue to sauté the carrots until they are al-dente, about 7-9 minutes. Once the carrots are done to your liking, remove the skillet from the heat. Add ground white pepper and ¼ Cup of Grated Sierra® Brand Cotija Cheese from V&V SUPREMO® and toss well. Taste the carrots and add salt to taste.

7

Fluff the ribbons with a fork and divide into 4 equal portions. Use tongs to gently twist the carrot ribbons into a neat pile on a plate. Top each portion with 2 Tbsp. Grated Sierra® Brand Cotija Cheese from V&V SUPREMO®. Repeat with the remaining portions. Delicious!
Comments
Related products
WHERE TO BUY
Missing some of the ingredients produced by VV Supremo? Find the nearest store in your area:
Find Store Now!
Store Locator
Great Places You Can Find
Our Products

Find A Store Now!
Available At
Great Places You Can Find
Our Products