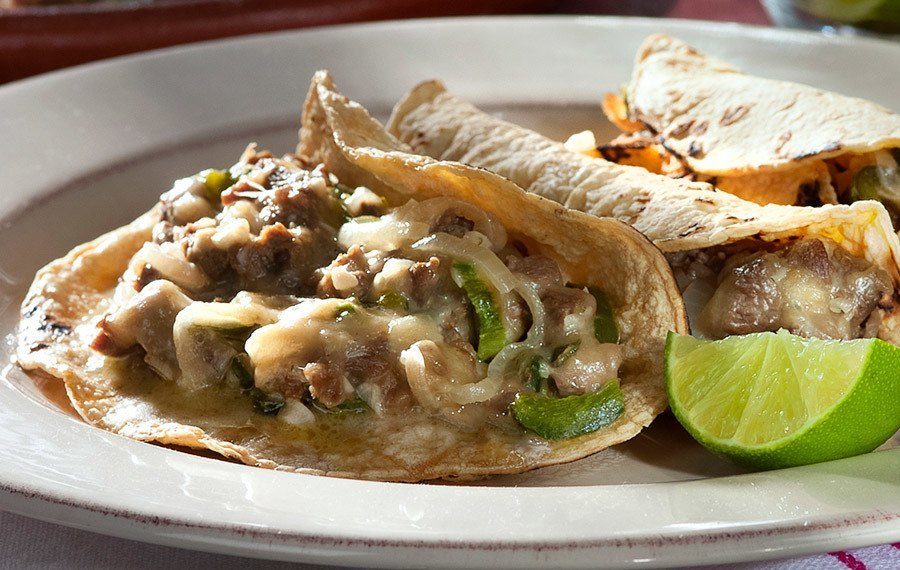 Cheese Poblano Steak Tacos-Chispas Tacos
by
V & V Supremo Foods, Inc.
We invite you to try this homemade treat from the beautiful state of Michoacán. Delicious Steak Tacos are some of the best you'll ever have!


Ingredients
3 Tbsp. olive oil

1½ lbs. beef (boneless chuck English steak), cut into ½ inch cubes

4 poblano peppers, seeded, cut into strips

1 large white onion, peeled, cut into thin slices

¼ cup garlic clove, minced

1½ tsp. kosher salt

18 corn tortillas

3 cups Shredded Chihuahua® Brand Quesadilla Cheese from V&V SUPREMO®
6 Steps to complete
1

Preheat a medium pan over medium-low heat for 1 minute. Add olive oil. After another minute, add meat and cook for 20 minutes or until liquid evaporates, stirring occasionally. Add garlic and cook for 1 minute. Stir constantly to avoid burning.

2

Add poblano peppers. Cook for 5 minutes, stirring occasionally. Add onions and salt. Cook for 5 more minutes, stirring occasionally (poblano peppers should be soft).

3

Distribute Shredded Chihuahua® Brand Quesadilla Cheese from V&V Supremo® evenly over meat. Do not stir. After 1 minute, cover pan and turn heat off. Let rest for 5 minutes (cheese should be fully melted).

4

Preheat large skillet over medium heat for 1 minute. Place tortillas on skillet in single layer for about 1 minute. Flip and heat other side for 1 more minute or until tortillas are just warm and pliable, not hard. Repeat with all tortillas.

5

Spoon a generous portion of meat mixture on each tortilla and serve with salsa and limes.

6

Enjoy a full-flavored homemade taco recipe.
Comments
Related products
WHERE TO BUY
Missing some of the ingredients produced by VV Supremo? Find the nearest store in your area:
Find Store Now!
Store Locator
Great Places You Can Find
Our Products

Find A Store Now!
Available At
Great Places You Can Find
Our Products