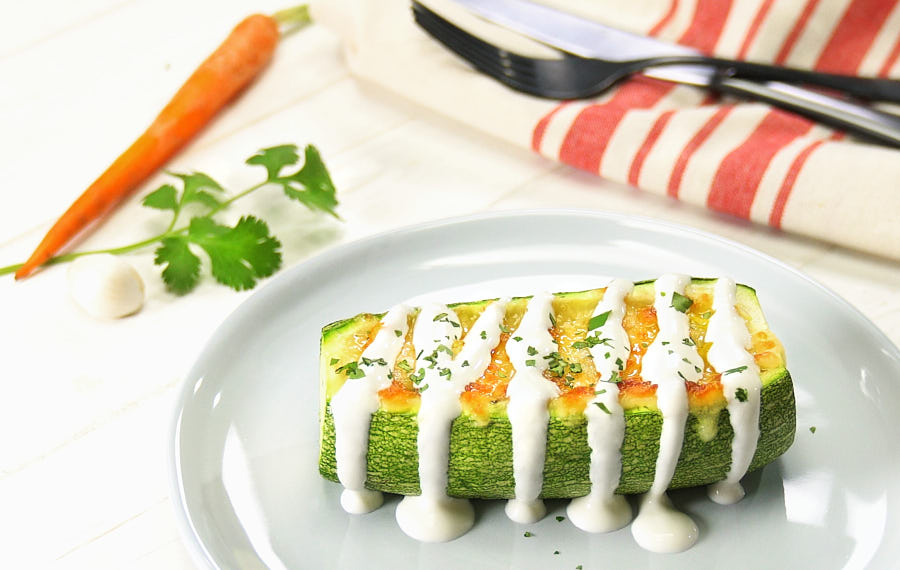 Cheese Stuffed Calabacitas
by
V & V Supremo Foods, Inc.
Cheese Stuffed Calabacitas Squash is a delicious vegetarian dish. Fresh squash is stuffed with sautéed vegetables and topped with Chihuahua® Cheese. These delicious baked squash boats will warm your heart con el sabor de V&V Supremo®.


Ingredients
4 medium Mexican calabacita squash

1 Tbsp. olive oil

¼ cup white onion, small dice

2 cloves garlic, crushed

¼ cup frozen corn

¼ cup carrot, small dice

¼ tsp. crushed red pepper flakes

¼ tsp. kosher salt, divided

¼ tsp. ground black pepper, divided

2 Tbsp. fresh cilantro, chopped, divided

¼ cup Grated Sierra® Brand Cotija Cheese from V&V SUPREMO®

1 cup Shredded Chihuahua® Brand Quesadilla Cheese from V&V SUPREMO®, divided

½ cup Supremo® Brand Mexican Sour Cream from V&V SUPREMO®
8 Steps to complete
1

Preheat oven to 350°F.

2

Trim both ends from calabacitas. Cut ⅓ off the top of each squash horizontally. Cut a thin horizontal slice from the bottom so that the squash will sit flat and not roll. Dice 2 of the calabacitas tops and set aside.

3

Using a small paring knife, cut around the inside of the squash. Carefully scoop out the inside of the squash. Be careful not to cut through the bottom or sides.

4

Season the insides of the hollowed out squash with ⅛ teaspoon salt and ⅛ teaspoon pepper. Set aside until needed.

5

Heat oil in a skillet for 1 minute over medium heat. Add onion and sauté for 1 minute. Add garlic, sauté for 30 seconds, reduce heat to medium low. Mix in carrot, cook for 2 minutes. Add corn, diced squash tops, season with salt, black pepper and red pepper flakes. Continue to cook for 2 minutes. Remove from heat. Let vegetable mixture cool for 1 minute. Mix in 1 tablespoon cilantro, ¼ cup Cotija cheese and ¼ cup Chihuahua® cheese. Divide vegetable mixture into 4 portions. Set aside.

6

Fill each hollowed squash with 1 tablespoon of Cotija Cheese, 1 portion vegetable stuffing, top with 2 additional tablespoons Chihuahua® Cheese.

7

Place stuffed squash on a sheet tray lined with parchment paper. Bake for 20 to 25 minutes or until the cheese is golden brown and squash is tender.

8

Drizzle Cheese Stuffed Calabacita Squash with Supremo Sour Cream and garnish with remaining cilantro. Serve and enjoy!
Comments
WHERE TO BUY
Missing some of the ingredients produced by VV Supremo? Find the nearest store in your area:
Find Store Now!
Store Locator
Great Places You Can Find
Our Products

Find Store Now!
Available At
Great Places You Can Find
Our Products
Come Join Us
Sign Up to our newsletter to get
the latest updates and recipes