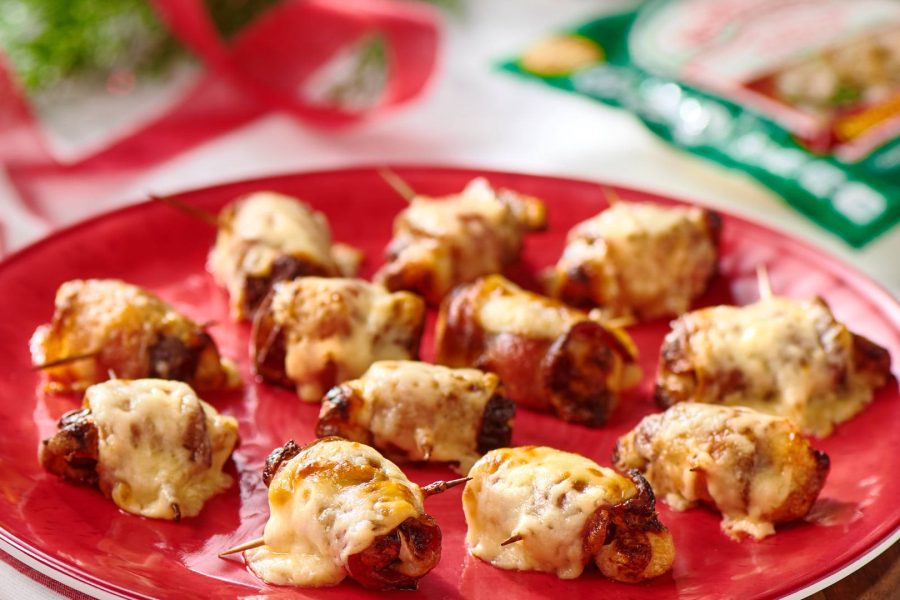 Cheesy Bacon Wrapped Dates
by
V & V Supremo Foods, Inc.
Cheesy Bacon Wrapped Dates are a perfect party appetizer for the holiday season. Seared Queso Fresco Cheese from V&V Supremo® adds new twist to this classic. ¡Buen apetito!


Ingredients
½ (10 oz.) pkg. V&V SUPREMO® Brand Queso Fresco Cheese, cold

½ (8.8 oz.) pkg. Chihuahua® Brand Quesadilla Cheese from V&V SUPREMO®, room temperature

12 medium pitted dates, sliced in half

4 slices bacon, cut into thirds
5 Steps to complete
1

Preheat oven to 425°F. Slice Queso Fresco and Chihuahua® Cheese into 12 chunks that are ¼-inch thick and 2-inches long or slightly larger than the dates.

2

Preheat a nonstick griddle or comal for 2 minutes over medium heat. Sear Queso Fresco Cheese for 30 seconds to 1 minute on each side or until golden.

3

Sandwich seared Queso Fresco Cheese chunks in between 2 date halves, wrap each with 1 piece of bacon, and use a toothpick to secure bacon in place. Transfer bacon wrapped dates to sheet tray lined with parchment paper. For best results, wrap and refrigerate or place in freezer for 15 minutes; or up to a day in advance.

4

Bake for 8 to 10 minutes, remove from oven, and flip dates for even cooking. Bake for an additional 5 to 7 minutes or until bacon is crisp. Remove from oven and allow dates to cool for several minutes. Preheat broiler to 550°F or high heat.

5

Top each date with 1 slice of Chihuahua® Cheese, return to oven, and broil for 1 to 2 minutes or until cheese is melted and lightly browned. Transfer Cheesy Bacon Wrapped Dates to serving plate or platter and enjoy!
Comments
WHERE TO BUY
Missing some of the ingredients produced by VV Supremo? Find the nearest store in your area:
Find Store Now!
Store Locator
Great Places You Can Find
Our Products

Find A Store Now!
Available At
Great Places You Can Find
Our Products