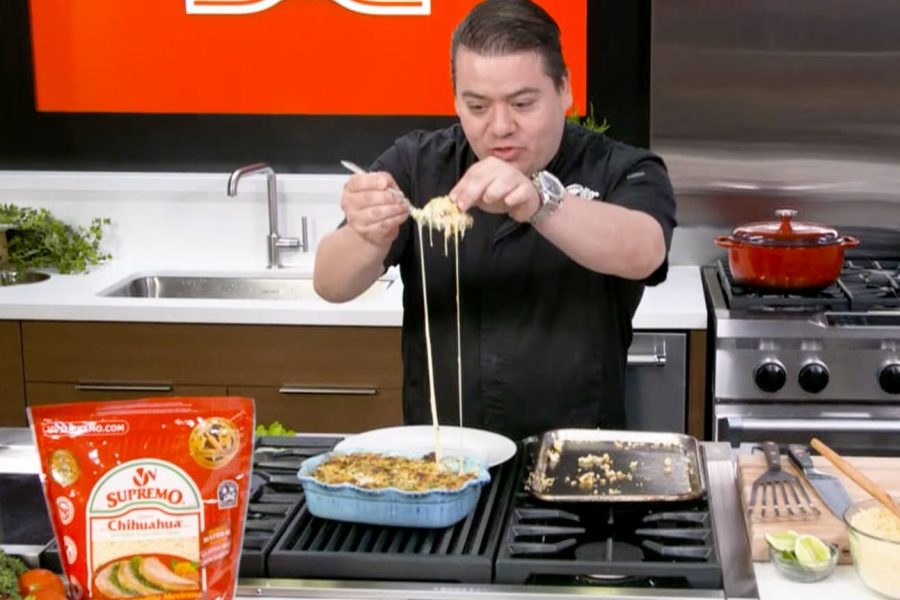 CHEF TANABE'S CHILE ROASTED CAULIFLOWER WITH CHEESE GRATIN
by
V & V Supremo Foods, Inc.
Chef Katsuji Tanabe's Chile Roasted Cauliflower with Cheese Gratini an exciting combination of authentic Mexican and Asian flavors!


Ingredients
Jalapeno Cream Sauce:
4 medium jalapeño peppers, stems removed

1 (16 oz.) container Supremo® Brand Mexican Sour Cream from V&V SUPREMO®

4 cloves garlic

1 Tbsp. fish sauce

1 Tbsp. fresh lime juice
5 Steps to complete
1

Preheat the oven to 450°F.

2

Roast jalapeño peppers over an open flame until charred on all sides. Place charred jalapeños in a zip-top bag and rest for 2 to 3 minutes. Peel jalapeños and transfer to a blender. Add Sour Cream, garlic, fish sauce, and lime juice. Blend for 1 to 2 minutes or until smooth. Set jalapeño cream aside until needed.

3

On a large sheet tray lined with parchment paper; place cauliflower florets in a single layer, drizzle with oil, and season with salt. Roast cauliflower for 16 to 18 minutes or until charred.

4

In a baking dish; combine roasted cauliflower, jalapeño cream, and mix until cauliflower is well coated. Top with shredded cheese and bake for 10 to 12 minutes or until cheese is melted and golden brown.

5

Serve Chef Tanabe's Chile Roasted Cauliflower with Cheese Gratin and enjoy!
Comments
WHERE TO BUY
Missing some of the ingredients produced by VV Supremo? Find the nearest store in your area:
Find Store Now!
Store Locator
Great Places You Can Find
Our Products

Find A Store Now!
Available At
Great Places You Can Find
Our Products