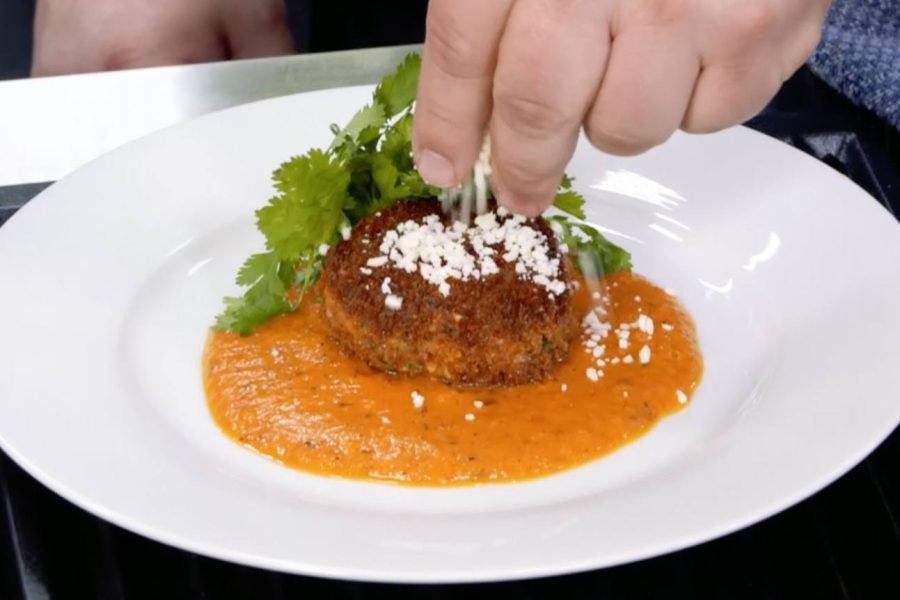 CHEF TANABE'S HUAZONTLES CAPEADOS
by
V & V Supremo Foods, Inc.
Chef Katsuji Tanabe's Huazontles Capeados are cheesy, crisp, and delicious. Huazontles are a Mexican vegetable that resemble broccoli. Formed into a patty and pan-fried, these delicious treats are an exciting fusion of Mexican and Asian flavors!


Ingredients
1 Tbsp. Kosher salt, divided

4 cups fresh huazontles, florets

¼ medium white onion

3 cloves garlic, divided

5 Roma tomatoes

3 dry arbol chili peppers

1½ Tbsp. olive oil, divided

2 Tbsp. fish sauce, divided

½ cup all-purpose flour

3 large eggs, divided

1¼ cups panko breadcrumbs, divided

1 (7.06 oz.) pkg. Shredded Chihuahua® Brand Quesadilla Cheese from V&V SUPREMO®

½ cup oil for frying

½ cup Grated Sierra® Brand Cotija Cheese from V&V SUPREMO®

2 Tbsp. fresh cilantro, chopped
8 Steps to complete
1

Preheat the oven to 450°F.

2

Bring a large pot of water with ½ tablespoon salt to boil over medium-high heat. Boil huazontles, onion, and 1 garlic clove for 5 to 6 minutes or until slightly tender. Drain and cool rapidly in ice water. Discard onion and garlic. Squeeze out excess water and set blanched florets aside until needed. This should yield 2 cups of florets.

3

On sheet tray lined with parchment paper; place tomatoes, arbol peppers, and remaining 2 cloves of garlic. Drizzle with 1 tablespoon olive oil. Roast for 18 to 20 minutes or until vegetables are charred.

4

In a blender; combine roasted vegetables and 1 tablespoon fish sauce. Blend for 1 to 2 minutes or until sauce is smooth. In a sauce pan; heat ½ tablespoon olive oil for 1 to 2 minutes over medium heat. Pour in blended vegetable mixture, bring to a boil, reduce heat to medium-low, and simmer for 3 to 5 minutes. Cover and keep warm until needed.

5

Prepare 3 shallow dishes for breading. In the first dish, place flour. In the second dish, place 2 eggs and whisk until smooth. In the third dish, place ¾ cup panko breadcrumbs.

6

In a large bowl; combine reserved huazontles, remaining egg, ½ cup panko, 1 tablespoon fish sauce, and Chihuahua® cheese. Evenly divide into 6 portions and form patties. Roll patties in flour, dip in beaten eggs, and roll in bread crumbs. Shake off excess breading and set aside until needed.

7

Preheat ½ cup oil in a large heavy bottom skillet for 3 to 4 minutes over medium heat. Pan-fry cakes in batches for 3 to 4 minutes on each side. Transfer fried cakes to a plate lined with paper towel.

8

Serve Chef Tanabe's Huazontles Capeados over tomato sauce, garnish with Cotija Cheese, fresh cilantro, and enjoy!
Comments
WHERE TO BUY
Missing some of the ingredients produced by VV Supremo? Find the nearest store in your area:
Find Store Now!
Store Locator
Great Places You Can Find
Our Products

Find A Store Now!
Available At
Great Places You Can Find
Our Products