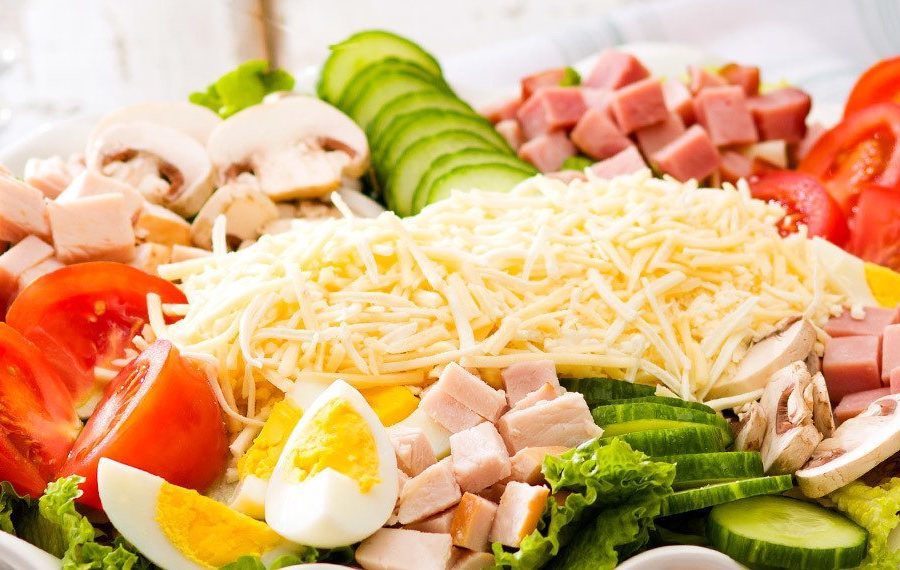 Chef's Salad with French Dressing
by
V & V Supremo Foods, Inc.
Who says you have to sacrifice great taste to eat healthy? Get the best of both worlds with our Chef's Salad.


Ingredients
1 cup Supremo® Brand Mexican Sour Cream from V&V SUPREMO®

½ cup Ketchup

¼ cup white vinegar

½ cup granulated sugar

1/3 cup white onion, cut into wedges

½ tsp Kosher salt

¼ tsp ground black pepper

1 cup canola oil

1 (8 oz.) container Romaine leaf singles, roughly chopped

¼ lb thick slice cooked ham off the bone, diced

¼ lb thick slice oven roasted turkey breast, diced

2 hard-cooked eggs, quartered

1 large tomato, cut into wedges

½ English cucumber with peel, sliced into half

½ cup fresh mushrooms, sliced

1- 7.06 oz. pkg Shredded Mexican 3 Cheese Blend from V&V SUPREMO®
2 Steps to complete
1

In a food processor, blend, sour cream, ketchup, vinegar, sugar, onion, salt and pepper; cover and process until smooth. (Approximately 1 minute.) While processing, gradually add oil in a steady stream.

2

Arrange lettuce on a serving platter, divide the vegetables, and cold cuts in half, then arrange in an alternating pattern, tomatoes, eggs, ham, mushrooms, cucumber, turkey. Leaving a space in the middle for the cheese. Accompany salad with French dressing. Enjoy!
Comments
Related products
WHERE TO BUY
Missing some of the ingredients produced by VV Supremo? Find the nearest store in your area:
Find Store Now!
Store Locator
Great Places You Can Find
Our Products

Find A Store Now!
Available At
Great Places You Can Find
Our Products