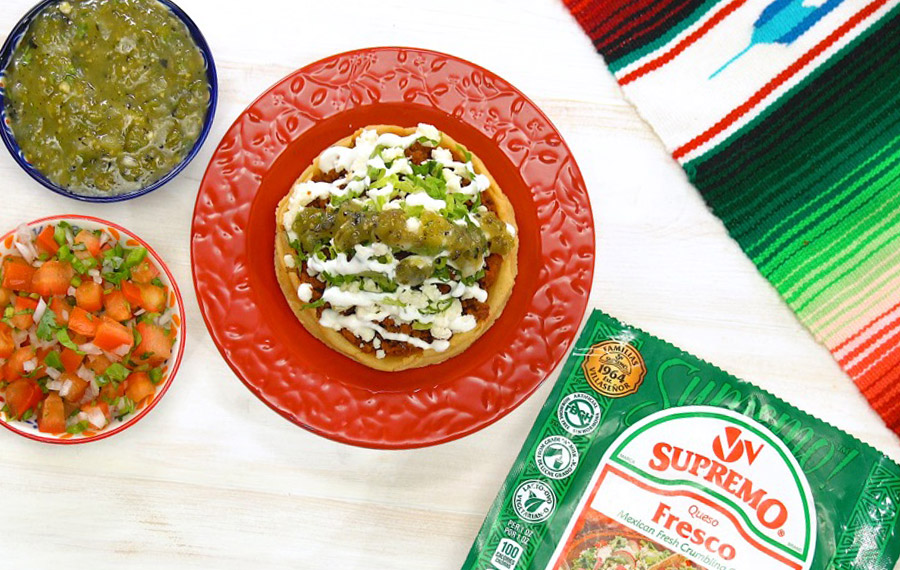 Sopes with Queso Fresco
by
V & V Supremo Foods, Inc.
Our recipe for Sopes with Queso Fresco is one of our favorite antojitos. Sope or picadita originates in the central and southern parts of Mexico, traditionally is made with corn masa that you can top with our Pork Chorizo, Queso Fresco and Supremo® Brand Mexican Sour Cream.


Ingredients
1 cup corn flour for tortillas

¼ tsp. kosher salt

1 cup warm water

1 link from (14 oz.) pkg. Supremo® Brand Pork Chorizo from V&V SUPREMO®

2 Tbsp. white onion, small dice

1 clove garlic, crushed

Vegetable oil for frying

1 cup + 2 Tbsp. Queso Fresco Cheese from V&V SUPREMO®, crumbled

1 cup Romaine lettuce, thin shreds

⅔ cups Supremo® Brand Mexican Sour Cream from V&V SUPREMO®

Green Tomatillo Salsa ...

See recipe

or use your favorite brand
7 Steps to complete
1

In a bowl; combine corn flour and salt. Gradually add warm water while mixing until a dough begins to form. Knead dough until it has a soft and moist texture, the masa dough should not stick to the bowl or hands. Evenly divide the masa dough into 6 balls. Cover masa dough with a damp towel and let it rest for 15 minutes.

2

Preheat a cast iron skillet for 2 minutes over medium low heat. Remove the plastic casing from Chorizo and cook for 4 to 5 minutes, crumbling with a spoon while cooking. Add onion and garlic. Cook for an additional 3 minutes. Divide into 6 equal portions. Keep warm until needed.

3

Cut a large zip top bag along the seams to make plastic sheets. Using a plate, flatten each dough ball between the plastic sheets to form a 5-inch tortilla.

4

Preheat a nonstick comal or skillet for 2 minutes over medium heat. Cook tortillas for 1½ minutes on each side and remove from heat. When cool enough to handle, pinch around the perimeter to create a ½-inch wall around the edge.

5

Preheat vegetable oil in a heavy bottom pot for 6 to 8 minutes over medium heat or until oil reaches 350˚F. Fry sopes in batches for 1 to 2 minutes on each side, flipping occasionally. Drain the sopes on paper towels or a wire rack.

6

Top each sope with 1 portion Chorizo, 2 tablespoons Queso Fresco Cheese, lettuce, a drizzle of Sour Cream, and 1 additional tablespoon Queso Fresco Cheese. Serve with extra Supremo® Sour Cream, and the salsa of your choice. Enjoy!

7

Cook's note: there are many ways to flatten masa into tortillas. Here are two alternate methods that you can try at home. Use the same method for plastic sheets with an authentic tortilla press or lightly press and pat masa into 5-inch tortillas with your hands.
Comments
WHERE TO BUY
Missing some of the ingredients produced by VV Supremo? Find the nearest store in your area:
Find Store Now!
Store Locator
Great Places You Can Find
Our Products

Find A Store Now!
Available At
Great Places You Can Find
Our Products