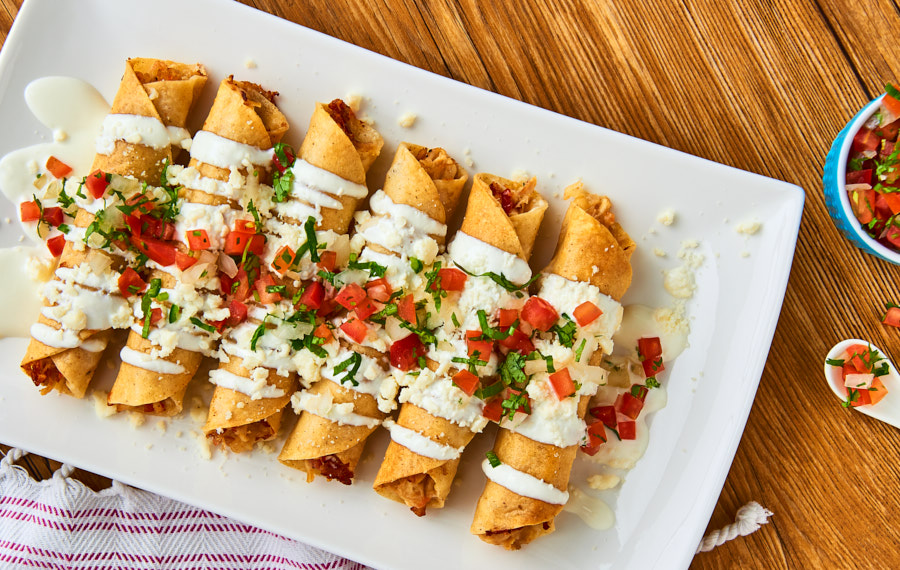 Chicken and Cheese Flautas
by
V & V Supremo Foods, Inc.
Learn how to make a Mexican favorite dish, with its delicious flavor and texture: Chicken and Cheese Flautas. With melted cheese, rotisserie chicken and Pico de Gallo, you'll savor it till the last bite!


Ingredients
Pico de Gallo
1 cup tomato, seeded & diced

¼ cup white onion, chopped

¼ cup cilantro, chopped

1 tsp. serrano pepper, seeded & finely chopped

1½ Tbsp. lime juice

¼ tsp. kosher salt

⅛ tsp. ground black pepper
WHERE TO BUY
Missing some of the ingredients produced by VV Supremo? Find the nearest store in your area:
Find Store Now!
8 Steps to complete
1

Pico de Gallo: In a medium bowl, combine tomatoes, onion, serrano pepper, cilantro, lime juice, salt, and pepper. Mix and set aside until ready to use.

2

Heat 1 Tbsp. of oil in a medium sauté pan on medium heat for 2 minutes. Add onion and sauté for 1 minute. Add garlic and sauté for 30 seconds.

3

Mix in shredded chicken, diced tomato, salt, and pepper; cook for 2 minutes and set aside.

4

Combine chicken with shredded Chihuahua® cheese in a bowl.

5

Warm tortillas for 1 minute or just until soft (you can use a microwave or griddle).

6

Fill each tortilla with about 3-4 Tbsp. of chicken mixture. Tightly roll up each tortilla and secure with a toothpick, set aside.

7

Heat ½ cup of oil in a medium skillet over medium heat for 3 minutes. Fry 5 of the flautas at a time until golden brown and crisp, about 4-5 minutes.

8

Transfer fried flautas to a paper towel-lined plate using tongs. Remove toothpicks before serving. Serve flautas with about 2 Tbsp. of sour cream, 3 Tbsp. Queso Fresco and 3 Tbsp. of pico de gallo. ENJOY!
Store Locator
Great Places You Can Find
Our Products

Find A Store Now!
Available At
Great Places You Can Find
Our Products