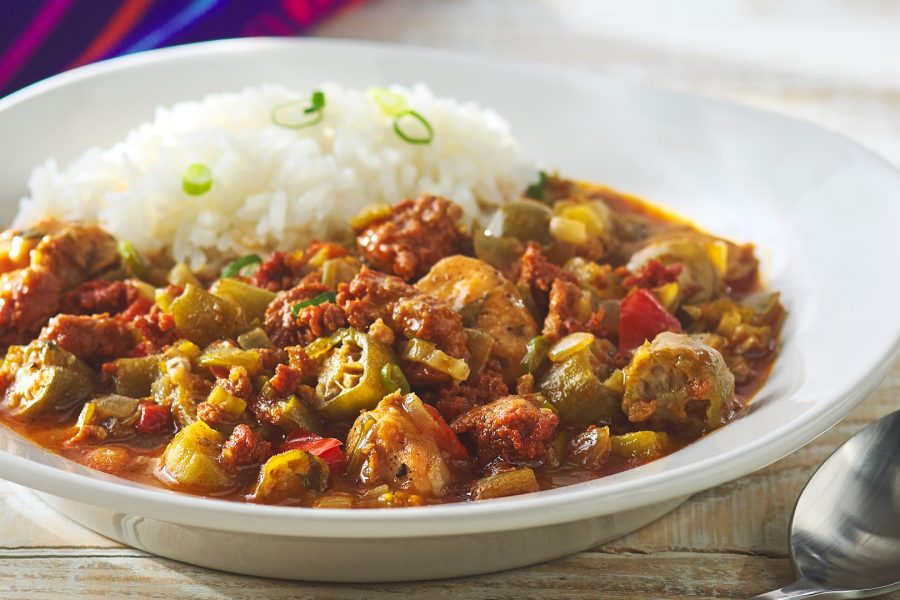 CHICKEN AND CHORIZO GUMBO
by
V & V Supremo Foods, Inc.
Fat Tuesday is around the corner, so let's make Cajun Gumbo with a Mexican twist. Perfectly seasoned Pork Chorizo from V&V Supremo® gives this recipe an irresistible spicy kick!


Ingredients
1½ tsp. Kosher salt, divided

¼ tsp. ground black pepper

¼ tsp. dried oregano

¼ tsp. dried thyme

¼ tsp. paprika

⅛ tsp. cayenne pepper

1 Tbsp. + ¼ cup olive oil, divided

1 lb. chicken tenders, bite-sized chunks

1½ links from (14 oz.) pkg. Supremo® Brand Pork Chorizo from V&V SUPREMO®

¼ cup all-purpose flour

1 medium white onion, medium dice

1 medium green bell pepper, medium dice

1 medium red bell pepper, medium dice

2 celery stalks, small dice

2 cloves garlic, crushed

4 cups chicken stock

1 tsp. Cajun-style hot sauce

1 tsp. Worcestershire sauce

1 bay leaf

1 (12 oz.) pkg. frozen sliced okra

¼ cup green onion, thin slice

2 Tbsp. flat parsley, chopped
8 Steps to complete
1

In a small bowl; combine 1 teaspoon salt, pepper, oregano, thyme, paprika, and cayenne pepper. Mix until all ingredients are fully incorporated.

2

In a medium bowl; combine diced chicken, 1 tablespoon olive oil, and seasoning blend. Mix until chicken is well-coated. Set aside until needed.

3

Preheat a heavy bottom pot or Dutch oven for 2 minutes over medium heat. Add Chorizo and cook for 4 to 5 minutes, crumbling with a spoon while cooking. Remove Chorizo and set aside until needed.

4

Add seasoned chicken to the pot and cook for 4 to 5 minutes, stirring occasionally. Remove chicken and set aside until needed.

5

Reduce heat to medium-low; add olive oil and flour. Cook for 5 to 6 minutes, stirring constantly, until a dark brown roux is formed.

6

Add onion, bell peppers, celery, and garlic. Cook for 4 to 5 minutes, stirring frequently. Add stock, hot sauce, Worcestershire, remaining ½ teaspoon salt, and bay leaf. Stir and scrape across the bottom of the pot with a spoon while bringing gumbo to a boil over medium high heat. Return chicken to pot.

7

Reduce heat to low and simmer for 16 to 18 minutes. Add okra, chorizo, cover, and simmer for an additional 4 to 6 minutes. Remove from heat and discard bay leaf. Stir in green onion and parsley.

8

Serve Chicken and Chorizo Gumbo with Long Grain Rice, garnish with sliced green onion, and enjoy!
Comments
Related products
WHERE TO BUY
Missing some of the ingredients produced by VV Supremo? Find the nearest store in your area:
Find Store Now!
Store Locator
Great Places You Can Find
Our Products

Find A Store Now!
Available At
Great Places You Can Find
Our Products