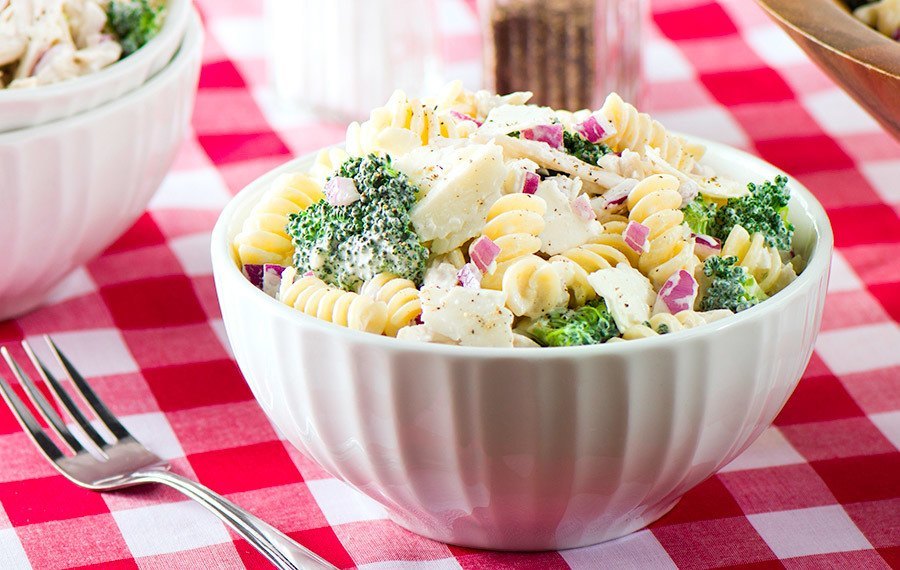 Chicken Broccoli Pasta Salad
by
V & V Supremo Foods, Inc.
Chicken Broccoli Pasta Salad provides endless possibilities for new flavor combinations and ingredients. This dish makes a fabulous lunch or dinner.


Ingredients
2 lbs. chicken breast, boneless, skinless

4 bay leaves

4 large garlic cloves

½ white medium onion

2½ tsp. kosher salt

1 lb. pkg. pasta (rotini)

1 Tbsp. extra virgin olive oil

1 lb. broccoli

2 - 15 oz. containers Supremo® Brand Mexican Sour Cream from V&V

6 Tbsp. lime juice

2 tsp. kosher salt

2 cups red onion, diced

2 cups Grated Sierra® Brand Cotija Cheese from V&V SUPREMO®, shaved, divided

Fresh black pepper to taste
7 Steps to complete
1

Rinse the chicken under cold water.

2

In a medium pot pour 4 cups of water, place the chicken breasts, bay leaves, garlic, white onion, and salt. Bring to a boil on medium-high heat. Cover, lower heat to low, and simmer for 15 minutes. Remove chicken from water and place on a sheet pan to cool. Once the chicken is cool enough to handle, shred and set aside.

3

Cook pasta according to package directions. Drain pasta. Mix in olive oil and place pasta on a sheet pan to cool.

4

Meanwhile, trim off just the end of each stalk. Cut broccoli into uniform bite-sized pieces. Add 1 inch of water into a pan insert the steamer basket. Bring the water to a boil over high heat. Add the broccoli. Cover the pot and reduce the heat to medium. Steam the broccoli for 4 to 5 minute.

5

Remove broccoli from heat, plunge in ice bath for just a couple a seconds, drain and pat dry.

6

In a large bowl whisk in Supremo® Brand Mexican Sour Cream, lime juice, salt. Add red onions, chicken, pasta, 1 cup of Sierra® Brand Cotija Cheese from V&V SUPREMO® mix, add broccoli, mix gently until well combined.

7

Divide salad into 8 portions. Add fresh ground black pepper and distribute the remaining cup of shaved Sierra® Brand Cotija Cheese from V&V SUPREMO® on each portion. Enjoy!
Comments
WHERE TO BUY
Missing some of the ingredients produced by VV Supremo? Find the nearest store in your area:
Find Store Now!
Store Locator
Great Places You Can Find
Our Products

Find A Store Now!
Available At
Great Places You Can Find
Our Products