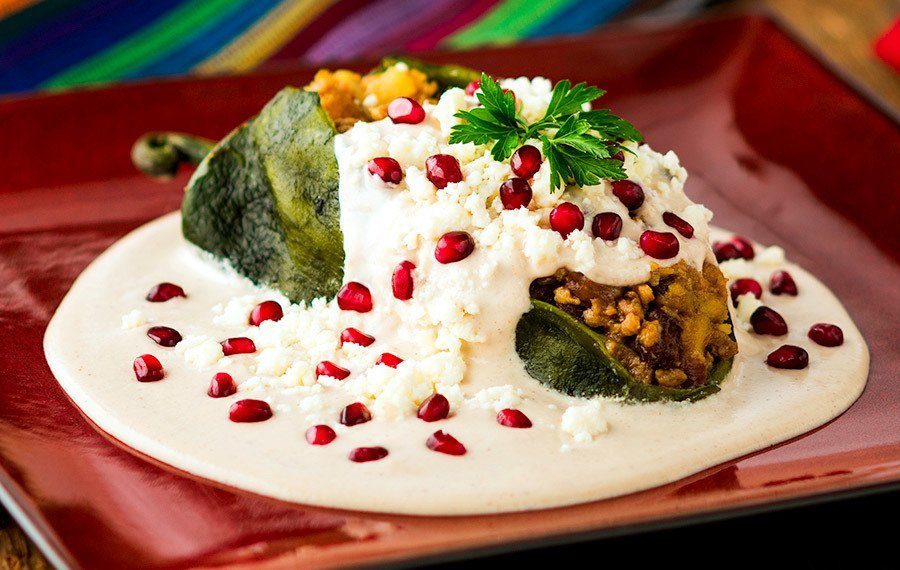 Chiles en Nogada
by
V & V Supremo Foods, Inc.
Chiles en Nogada originated in Puebla Mexico in the 1800s. Enjoy this taste of history with family and friends at your Mexican Independence day celebration.


Ingredients
8 medium poblano peppers, roasted, peeled, cut for stuffing, deveined

2 Tbsp. vegetable oil

3 Tbsp. yellow onion, small diced

2 small cloves garlic, minced

½ lb. ground pork, 75% lean

6 oz. ground beef, 80% lean

¼ Cup + 1 Tbsp. smoked ham, small diced

½ lb. Roma tomatoes roasted, peeled, seedless, chopped

½ Cup chicken stock

1 pinch ground cloves

1 pinch ground cumin

1 pinch ground cinnamon

½ Cup + 2 Tbsp. apples, small diced

½ Cup + 2 Tbsp. pears, small diced

½ Cup + 2 Tbsp. peaches, small diced

¼ Cup + 1 Tbsp. plantain, small diced

1 pinch saffron

½ Cup + 1 Tbsp. raisins

¼ Cup + 1 Tbsp. almonds, sliced, toasted

3 Tbsp. candied pineapple rings, minced

½ tsp. Kosher salt

¼ Cup sherry wine
8 Steps to complete
1

For the stuffing: Preheat a large sauté pan over medium heat for 1 minute. Add vegetable oil and heat for 30 seconds, add onion and garlic, cook for 1 minute. Stir constantly. Incorporate the ground meats and ham, break up ground meat with spatula, and fry for 4 minutes, add the tomatoes and continue stirring for 2 minutes. Raise to medium-high heat, pour the chicken stock. With a wooden spoon, scrape the bottom and sides of the pan to loosen up the drippings. Allow the stock to consume and dry completely.

2

Add cloves, cumin, cinnamon, and fruits sauté for 2 minutes. Add saffron, raisins, almonds, candied pineapple, and salt. Deglaze with sherry wine, continue stirring, and allow to reduce completely about 5 minutes. Transfer stuffing to a sheet tray and allow to cool.

3

For the sauce: Preheat a medium skillet for 1 minute, add the peeled walnuts, and toast to release the oils for approximately 2 minutes, stir constantly. Add ¼ cup of sherry wine, allow to reduce, carefully do not dry out the skillet. Remove from the heat and with a spatula, stir in ¼ cup of Sour Cream. Set aside.

4

In a bowl, pour 2 cups of Sour Cream, add nutmeg, cinnamon, sugar, 2 tbsp. plus 1 tsp. sherry wine. Mix well and incorporate the diced bread as well as the walnut mixture. Allow 15 minutes for the bread to soften.

5

Transfer the mixture from the bowl to the blender, cover with lid and starting at medium speed blend for 1 minute. Stop blender and add 1½ cups of Queso Fresco Cheese. Cover and blend for another 2 minutes or until ingredients are well incorporated.

6

To assemble: Slightly warm the nogada sauce. Stuff the peppers with approximately ½ cup mixture.

7

Pour about 3 Tbsp. of the sauce on the middle of the plate and swirl to make a circle. Place pepper in the middle and ladle more sauce over the pepper.

8

Top with the crumble Queso Fresco Cheese, sprinkle the pomegranate seeds. Place the parsley sprigs over the pepper. Repeat the process with the rest of the ingredients. This dish is an authentic delight of the Mexican cuisine. Enjoy!
Comments
Related products
WHERE TO BUY
Missing some of the ingredients produced by VV Supremo? Find the nearest store in your area:
Find Store Now!
Store Locator
Great Places You Can Find
Our Products

Find A Store Now!
Available At
Great Places You Can Find
Our Products