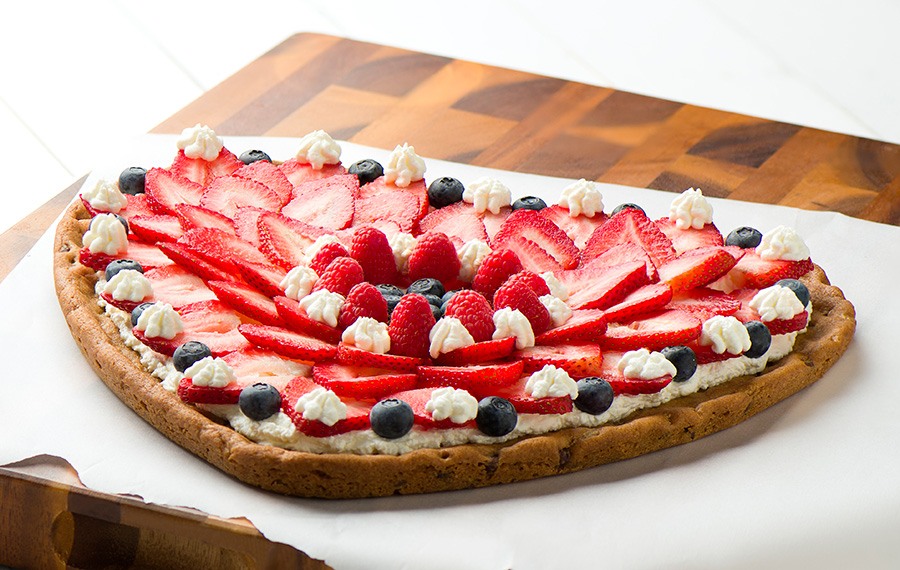 Chocolate Chip Cookie & Fresh Berries
by
V & V Supremo Foods, Inc.
This unbelievably easy to make dessert is topped with fresh berries and will be your new favorite cookie!


Ingredients
16.5 oz. package of chocolate chip cookie dough, at room temperature

15 oz. Rancherito® Brand Mexican Sour Cream from V&V SUPREMO®

2 Tbsp. confectionary sugar

16 oz. package fresh strawberries, sliced lengthwise to about ⅛-inch

1/3 cup raspberries

1/3 cup blueberries
6 Steps to complete
1

Preheat oven to 350°F. Spray a 12-inch heart shaped pan with cooking spray. Pat dough out evenly on the pan and pressing evenly down to form a crust.

2

Bake for 10 minutes or until golden brown. Let cool for about 10 minutes.

3

In a medium bowl, whip sour cream and sugar with electric mixer at high speed for approximately 2 ½ to 3 minutes or until stiff peaks form.

4

Spread half of the sour cream over the cooled cookie crust.

5

To decorate: Start from the outside perimeter of the cookie; place a ring of strawberries with the points facing out. Make three rows of slices, overlapping them. The strawberries begin to stand up as you create more layers, giving the cake more height and dimension. Leave about 3 inches of open space in the center of the cookie. Fill in the center with raspberries and blueberries. Decorate the first layer of strawberries with the rest of the blueberries in between the open spaces.

6

Fill a piping bag with the rest of the whipped cream and decorate the tip of the strawberries on the first layer and then in between the raspberries. It's Simply delicious. Enjoy!
Comments
Related products
WHERE TO BUY
Missing some of the ingredients produced by VV Supremo? Find the nearest store in your area:
Find Store Now!
Store Locator
Great Places You Can Find
Our Products

Find A Store Now!
Available At
Great Places You Can Find
Our Products