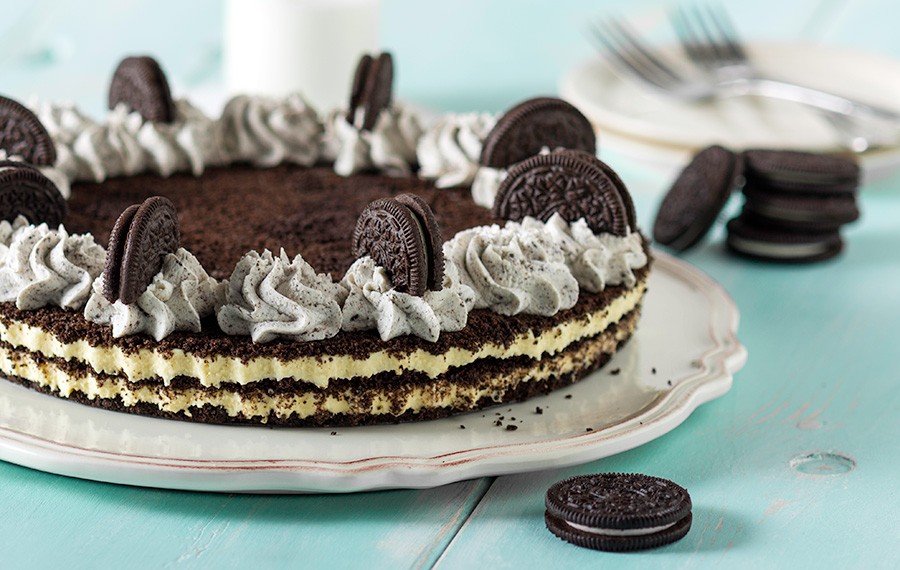 Chocolate Cookie Cheesecake
by
V & V Supremo Foods, Inc.
Exchanging gifts will be fun during the holidays, but not as fun as sharing this Chocolate Cookie Cheesecake!


Ingredients
24 chocolate sandwich cookies, reserve 4 whole cookies

1 Tbsp. unsalted butter, melted

1 (14 oz.) pkg. V&V SUPREMO® Brand Queso Fresco Cheese

2 cups Supremo® Brand Mexican Sour Cream from V&V SUPREMO®

2 tsp. vanilla extract

¼ cup granulated sugar

1 (5.1 oz.) box instant vanilla pudding
Whipped Cream & Cookie Crumbs
11 Steps to complete
1

Preheat oven to 350°F.

2

Crumble 20 cookies in a food processor for 30-40 seconds, until fine crumbs form. Transfer cookie crumb into a bowl and set aside. Reserve 1 Tbsp. of the crumbs for final decoration.

3

Measure ¾ cup of cookie crumb into a small bowl, add in melted butter and mix thoroughly. Using the bottom of a glass, press crumb into the bottom of a 10" tart pan with a removable bottom.

4

Bake crust for 7 minutes. Remove and let cool.

5

Break up cheese into fourths and blend in a food processor for 10 seconds. Add in sour cream, vanilla extract, and sugar. Blend mixture for 4 minutes.

6

Remove the top of the food processor, add in instant vanilla pudding and blend for 2 minutes. Scrape down sides of food processor and continue to blend mixture for 1 minute.

7

Pour half of the cheese mixture (2 cups) and lightly spread on top of the cooled cookie crust. Sprinkle ½ cup of cookie crumbs on top of the cheese mixture ensuring to cover layer.

8

Add the rest of the cheese mixture on top of the cookie crumb layer and gently spread evenly (ensuring not to mix the cheese mixture with the cookie crumb).

9

Sprinkle the top with remaining cookie crumbs (approx. ½ cup) to cover layer completely. Cut a 10" inch round circle of parchment paper, gently place it on top of the cake. Wrap the cake with plastic wrap to prevent ice crystals from forming. Freeze for 5 hours or overnight for best results. Let dessert sit out for 15 minutes then remove ring from springform pan.

10

Whipped Cream: In a medium bowl, beat together Rancherito® sour cream with sugar and vanilla. Beat at high speed for approximately 2½ - 3 minutes or until stiff peaks form.

11

Using a spatula, gently fold the tablespoon of reserved cookie crumbs. Transfer the whipped cream to piping bag. Using a star tip, pipe out 16 quarter-sized rosettes along the border of the cake. Cut 4 cookies in half and place them on top of every other rosette. Keep chilled until ready to serve. Enjoy!
Comments
WHERE TO BUY
Missing some of the ingredients produced by VV Supremo? Find the nearest store in your area:
Find Store Now!
Store Locator
Great Places You Can Find
Our Products

Find A Store Now!
Available At
Great Places You Can Find
Our Products