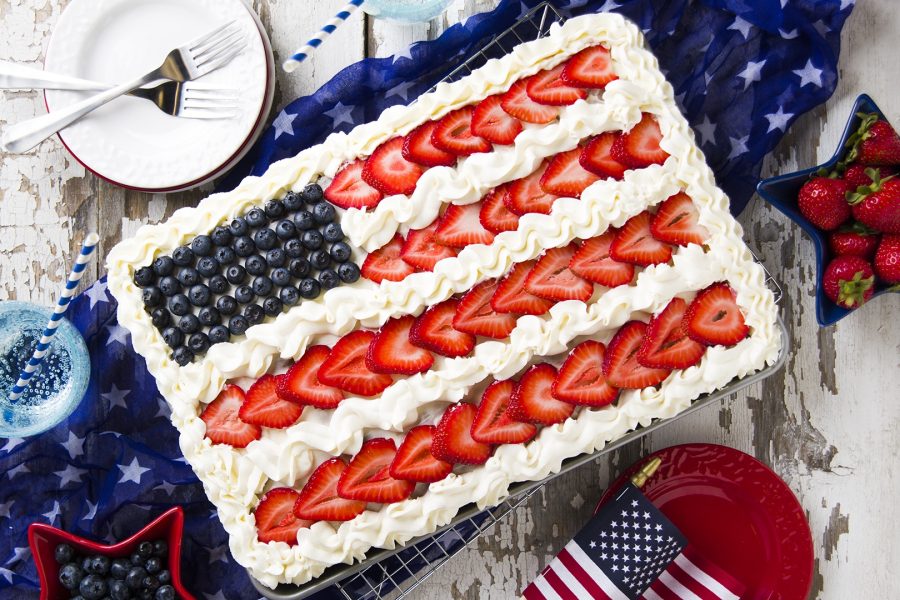 Chocolate Flag Cake
by
V & V Supremo Foods, Inc.
Celebrate Independence Day with this mouthwatering Chocolate Flag Cake sure to leave a lasting impression on your guests!


Ingredients
1 (15.25 oz.) package chocolate cake mix

1 cup Supremo® Brand Mexican Sour Cream from V&V SUPREMO®

½ cup vegetable oil

3 large eggs

1 (15 oz.) Rancherito® Brand Mexican Sour Cream from V&V SUPREMO®

½ cup powdered sugar

½ tsp. vanilla

50 blueberries

1 (16-oz.) package fresh strawberries, sliced
9 Steps to complete
1

Preheat oven to 350°F. Coat the bottom of a 10"x15" inch pan with cooking spray. Set aside.

2

Combine cake mix with Supremo® sour cream, oil, and eggs in a large mixing bowl. Beat with an electric mixer on medium speed for 2 minutes.

3

Pour batter into prepared pan and smooth it out. Bake for 22 minutes.

4

For whipped cream: In a medium bowl, beat together Rancherito® sour cream with sugar and vanilla. Beat at high speed for approximately 2½ - 3 minutes or until stiff peaks form. Keep chilled until ready to use.

5

Remove cake from the oven, and let cool in the pan for 10 minutes.

6

Spread about 3/4 cup of the whipped sour cream onto the cake. Transfer the rest of the whipped sour cream into a pastry bag fitted with a rose tip and set aside.

7

Align 50 blueberries on top left corner of the cake. Place in rows until you see that they are in proportion to the rest of the flag.

8

Align strawberries in horizontal rows, leaving space between the rows to represent the white stripes.

9

Fill in the spaces between the rows with the remaining whipped cream. Refrigerate until ready to serve. Enjoy!
Comments
WHERE TO BUY
Missing some of the ingredients produced by VV Supremo? Find the nearest store in your area:
Find Store Now!
Store Locator
Great Places You Can Find
Our Products

Find A Store Now!
Available At
Great Places You Can Find
Our Products