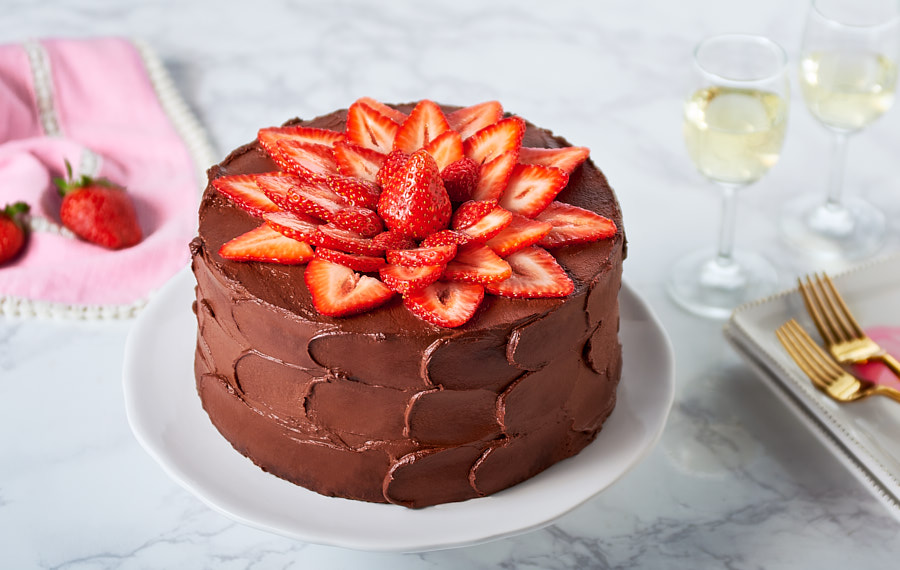 Chocolate Strawberry Cake
by
V & V Supremo Foods, Inc.
When words are not enough to express how much you love them… show them with this delicious Chocolate Strawberry Cake. You'll fall in love at first taste.


Ingredients
1¼ cups sliced strawberries: 1 cup small dice strawberries, & 1 whole strawberry

2 round (8"x3") cake pans

1 non-stick spray

1 (15.25 oz.) pkg. devil's food cake mix

1 cup Supremo® Brand Mexican Sour Cream from V&V SUPREMO®

3 large eggs

½ cup vegetable oil

¼ cup + ½ Tbsp. water (separated)

½ Tbsp. granulated sugar
11 Steps to complete
1

Pre-heat conventional oven to 350°F.

2

In a large bowl add cake mix, sour cream, eggs, oil, and ¼ cup water. Use a hand mixer to mix thoroughly on medium speed.

3

Using non-stick spray, spray 2 cake pans and evenly divide batter into the 2 cake pans. Bake for 26-28 minutes.

4

Chocolate Frosting: In a large bowl, add Rancherito® sour cream and vanilla, whip on high for 1 minute using an electric hand mixer. Whip in confectioners' sugar on medium speed, then whip in cocoa powder on low speed until thickened.

5

Add in 2 Tbsp. Supremo sour cream, wipe down sides of bowl, and stir with spatula until combined. Reserve ½ cup of frosting for filling and set aside.

6

Syrup for strawberries: In a small, microwave safe bowl, combine ½ Tbsp. water and ½ Tbsp. sugar and microwave for 30 seconds, set aside.

7

Once cakes are done baking and cooled to room temperature, place 1 cake onto platter or cake stand with the rounded side facing up.

8

Spread ¼ cup of frosting onto the cake and evenly spread diced strawberries on top.

9

Spread ¼ cup of frosting to the rounded side of the other cake and face the frosted side down onto the strawberry layer.

10

Place the rest of the frosting onto the center of the cake and frost the cake using an off-set spatula. Start spreading the frosting on top and work your way down to the sides. Smooth out the frosting or create any look you like.

11

Starting from the outside perimeter, place a ring of the sliced strawberries around the cake with the points facing out. Continue layering sliced strawberries around the cake and place the whole strawberry in the center. Brush syrup onto the strawberries, serve, and enjoy!!!
Comments
WHERE TO BUY
Missing some of the ingredients produced by VV Supremo? Find the nearest store in your area:
Find Store Now!
Store Locator
Great Places You Can Find
Our Products

Find A Store Now!
Available At
Great Places You Can Find
Our Products