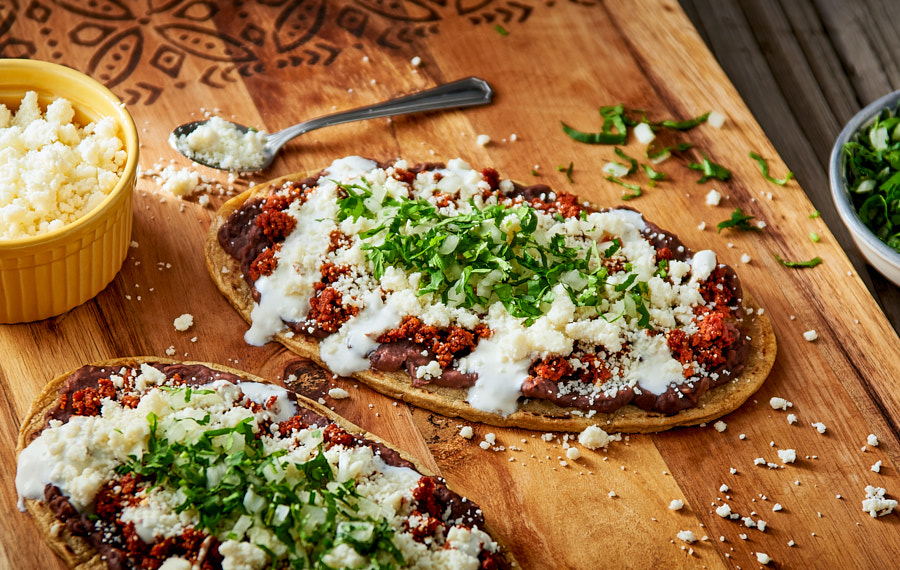 Chorizo and Beans Huaraches
by
V & V Supremo Foods, Inc.
One of the most enjoyable, traditional, and favorite Mexican dishes can be made ready in only 20 minutes! Take part of this delicious tradition and share Chorizo and Beans Huaraches with your whole family!


Ingredients
1 link from (14 oz.) pkg. Supremo® Brand Pork or Beef Chorizo from V&V SUPREMO®

2 Tbsp. vegetable oil, divided

2 Tbsp. white onion, diced

1 Tbsp. garlic, minced

1 cup canned refried black beans

1 (4 oz.) pkg. V&V SUPREMO® Brand Queso Fresco Cheese, crumbled

¼ cup Grated Sierra® Brand Cotija Cheese from V&V SUPREMO®

1 (12.7 oz.) pkg. Corn Huaraches from V&V Supremo®

½ cup Supremo® Brand or Chihuahua® Brand Mexican Sour Cream from V&V SUPREMO®
6 Steps to complete
1

Chorizo: Pre-heat a small sauté pan for 2 minutes on medium heat. Add chorizo to the pan and cook for 10 minutes (break up chorizo while cooking). Remove from pan. Set aside.

2

Beans: In the same pan over medium heat, add 1 Tbsp. oil. Heat for 1 minute. Add onion and sauté for 1 minute. Stir in garlic and sauté for 30 seconds. Mix in beans and heat for 3 minutes. Keep warm until ready to use.

3

Cheese: In a medium bowl, combine Queso Fresco and grated Cotija cheese. Set aside until ready to use.

4

Heat huaraches: Preheat a medium pan or griddle on high heat for 2 minutes. Brush each side of the huaraches with 1 tsp. vegetable oil. Place 2 huaraches onto the pan, turn heat to medium low, cover with foil. Heat each side of the huaraches for 4 minutes (covered).

5

Assembling huaraches: Spread about ¼ cup of refried black beans on top of each huarache and add 3 Tbsp. of cooked chorizo. Drizzle each huarache with 2 Tbsp. of sour cream and 3 Tbsp. of the cheese mixture.

6

Garnish: Garnish each huarache with 1 Tbsp. of the cilantro and onion mixture. Serve and enjoy!
Comments
Related products
WHERE TO BUY
Missing some of the ingredients produced by VV Supremo? Find the nearest store in your area:
Find Store Now!
Store Locator
Great Places You Can Find
Our Products

Find A Store Now!
Available At
Great Places You Can Find
Our Products