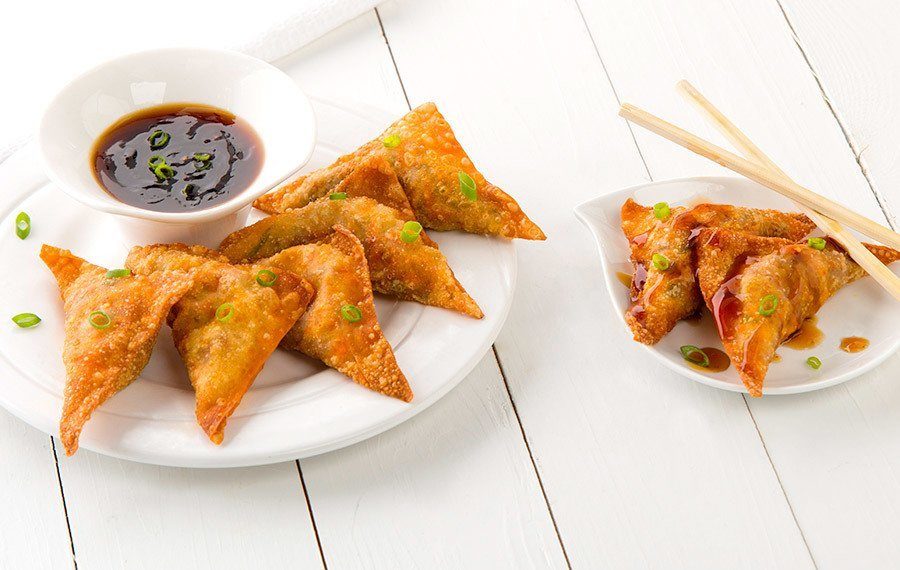 Chorizo Wontons
by
V & V Supremo Foods, Inc.
These little bites of heaven are the perfect blend of classic Asian and Mexican flavors. Pair it with an Asian-Style Dipping Sauce. Delicious.


Ingredients
1 link from 14 oz. pkg. Supremo® Brand Pork Chorizo from V&V SUPREMO®

1 cup celery, finely diced

1 cup yellow sweet onion, finely diced

2 small garlic cloves, minced

3 green onions, thinly sliced

½ cup carrots, shredded

¼ cup cilantro, minced

1 tsp. soy sauce

22 wonton wrappers, thawed in refrigerator

1 cup of water

3 Cups peanut oil
5 Steps to complete
1

Preheat a medium skillet over medium heat for 1 minute. Place chorizo and cook for 7 minutes, breaking it up while cooking. Add celery and cook for 3 minutes stirring. Add onion, garlic and cook for an additional 2 minutes, continuing to stir. Remove from heat and transfer to a medium bowl. Allow to cool.

2

Add green onions, carrots, cilantro, and soy sauce to the chorizo mixture and mix well.

3

Place 5 wonton wraps on a cutting board. In the center, place 1½ Tbsp. of the chorizo mixture. Dip your finger in the water and moisten the edges and fold wrapper in half to form triangle, pressing edges together to seal and to remove any air pockets. Seal with more water if necessary. Repeat with remaining wrappers and filling.

4

In a medium deep saucepan pour the peanut oil. Place over medium heat until oil reaches 350°F to 375°F. (approximately 15 minutes). Fry the wontons in batches, until golden brown on both sides. Approximately 1 minute on each side. Place the wontons on paper towels to absorb the excess oil.

5

Serve with Asian-Style dipping sauce. Enjoy!
Comments
WHERE TO BUY
Missing some of the ingredients produced by VV Supremo? Find the nearest store in your area:
Find Store Now!
Store Locator
Great Places You Can Find
Our Products

Find A Store Now!
Available At
Great Places You Can Find
Our Products