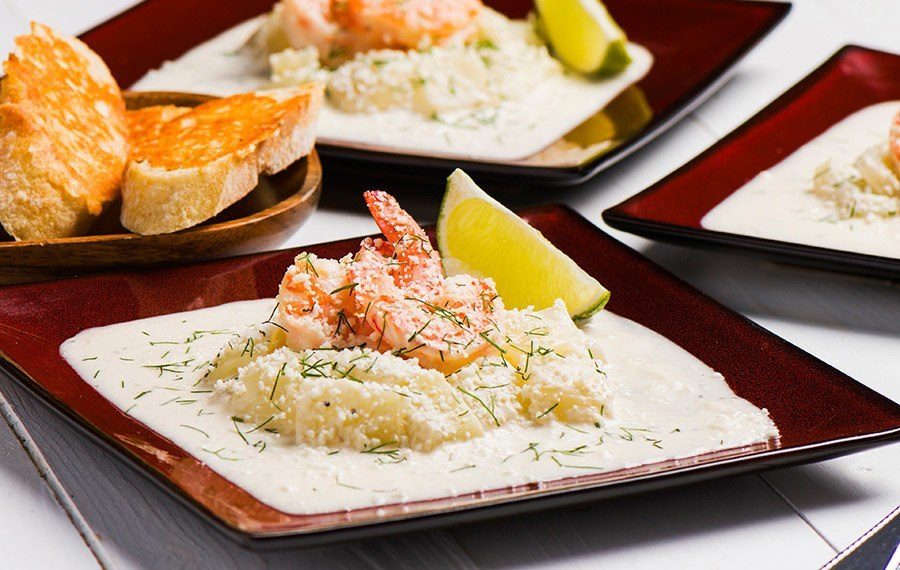 Creamed Fennel with Shrimp
by
V & V Supremo Foods, Inc.
Tender fennel is cooked in a rich and cheesy sauce and then topped with plump shrimp. Serve this elegant appetizer with Cotija bread and a wedge of lime.


Ingredients
3 medium bulbs of fresh fennel

1½ Tbsp. grape seed oil

4 medium cloves garlic, minced

½ tsp. kosher salt

¾ cup chicken broth

¼ tsp. freshly ground black pepper

1-15 oz. Supremo® Brand Mexican Sour Cream from V&V SUPREMO®

1-7 oz. Grated Sierra® Brand Cotija Cheese from V&V SUPREMO®

8 baguette slices
7 Steps to complete
1

Cut the bulbs of fennel and reserve stalks. Remove ½ inch of the lower part of the bulbs. Hold the bulbs upright and cut in half lengthwise. Cut each half once more and remove the tough inner core. Cut each quarter into 2 or 3 pieces approximately 1½ inches in length.

2

Fill a medium saucepan with water, bring to a boil. Plunge fennel into boiling water for 3 minutes. Remove the fennel and immediately place in an ice bath. After 3 minutes, remove from ice water and drain on a towel-lined plate.

3

Remove the fronds from fennel stalks and chop to approximately ½ inch in length. Set aside.

4

Preheat a large saucepan over medium heat for 2 minutes. Add oil to pan. After 2 more minutes, add fennel. Cook for 3-4 minutes, turning occasionally with tongs until fennel is browned on all sides. Add garlic and salt. Cook for 1 minute, stirring constantly. Add broth, pepper, Sour Cream and ½ cup Grated Sierra® Brand Cotija Cheese. Bring to a boil, reduce heat to low, cover, and simmer for 8 minutes. Or until fennel is tender when pierced with a paring knife. Stir occasionally.

5

Meanwhile, preheat a skillet for 1 minute over low heat, sprinkle 1 tsp. of Cotija Cheese about the size of the bread slices. Place bread over cheese and lightly press down on the bread using a spatula. Rotate the bread to help the cheese adhere until golden brown, about 1 minute. Flip and toast for an additional minute. Repeat with the rest of the slices.

6

After simmering time, add shrimp. Stir and cover. Cook for 1 minute, or until shrimp are just cooked through.

7

To serve, ladle about ½ cup of creamed fennel on a plate, top with 2 shrimp, sprinkle 1 tsp. Cotija cheese, and ½ tsp. fronds. Accompany with a slice of bread and lime wedge. Enjoy!
Comments
WHERE TO BUY
Missing some of the ingredients produced by VV Supremo? Find the nearest store in your area:
Find Store Now!
Store Locator
Great Places You Can Find
Our Products

Find A Store Now!
Available At
Great Places You Can Find
Our Products