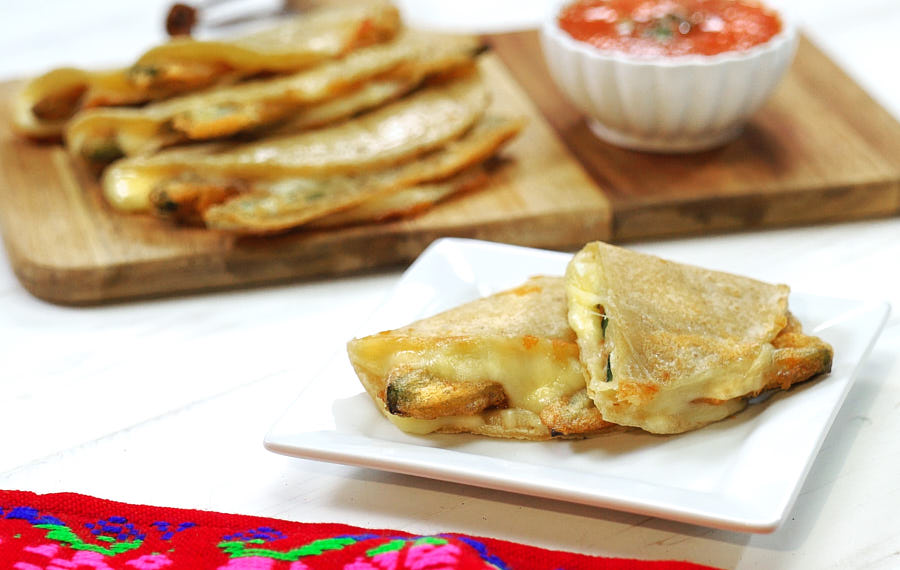 Fried Poblano Quesadillas Strips
by
V & V Supremo Foods, Inc.
Do you like chiles rellenos? What about having all those great flavors in a quesadilla? These Fried Poblano Quesadillas Strips are very delicious and mix two typical foods:  Puebla and central Mexico. The flavor and texture of the fried poblano pepper strips with melted Chihuahua® Brand Quesadilla Cheese create a rich and satisfying quesadilla.


Ingredients
1 large poblano pepper, remove seeds and ribs, slice into 8 strips

2 eggs

¼ tsp. Kosher salt

⅛ tsp. ground black pepper

⅛ tsp. garlic powder

⅛ tsp. onion powder

2 Tbsp. all-purpose flour

3 Tbsp. vegetable oil

4 flour tortillas (6- inch)

1 cup Shredded Chihuahua® Brand Quesadilla Cheese from V&V SUPREMO®
4 Steps to complete
1

Add the egg whites to a medium bowl. Reserve the egg yolks. Beat the egg whites with an electric mixer until the whites fluff up. Add in egg yolks, salt, black pepper, garlic and onion powder and mix until completely incorporated. Coat pepper strips with the flour, then dip into the egg batter.

2

Preheat oil in a frying pan over medium heat for 2-3 minutes. fry pepper strips until golden brown on both sides, about 2-3 minutes. Transfer pepper strips to a paper towel-lined plate.

3

Preheat a medium skillet or pan for 1 minute over medium-low heat. It's important that the skillet temperature is not too high, so that the tortillas do not harden or overcook before the cheese fully melts. Heat tortillas for 30 seconds on one side, flip and add ¼ cup of cheese to each tortilla and about 3-4 pepper strips. Fold in half. Cook for about 2 minutes or until golden brown. Flip occasionally so they don't burn. Repeat with remaining ingredients. Serve and enjoy!

4

Cook's note: For best results make sure that you pat dry the poblano pepper strips, they must be completely dry inside and out.
Comments
Related products
WHERE TO BUY
Missing some of the ingredients produced by VV Supremo? Find the nearest store in your area:
Find Store Now!
Store Locator
Great Places You Can Find
Our Products

Find A Store Now!
Available At
Great Places You Can Find
Our Products