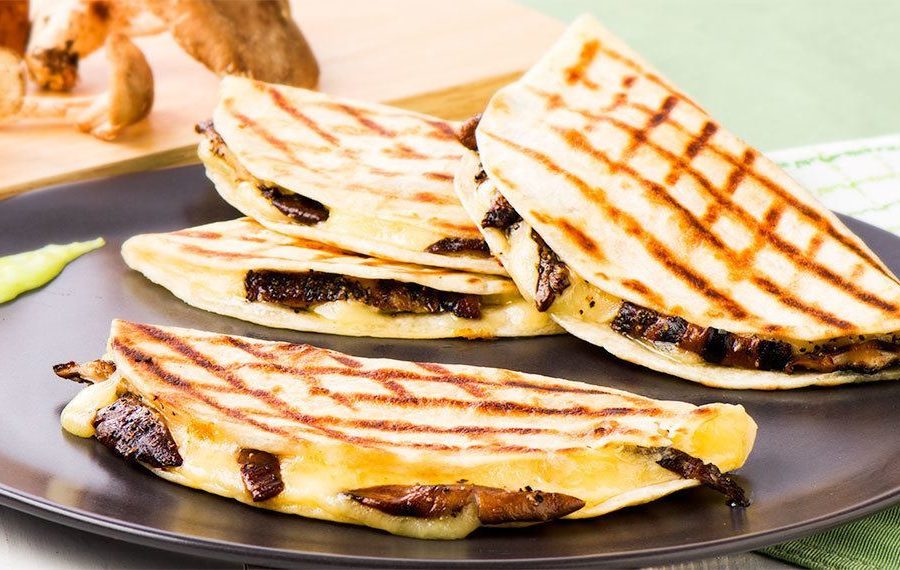 Grilled Shiitake Mushroom Quesadilla
by
V & V Supremo Foods, Inc.
Shiitake mushrooms have been cultivated in Eastern Asia for thousands of years. The versatile and robust flavor of these exotic mushrooms are more accessible than ever thanks to local farmers. Celebrate the meaty flavor of the Shiitake mushroom with a delicious Grilled Shiitake Mushroom Quesadilla.


Ingredients
1¾ cup shiitake mushrooms, wiped clean and stems removed

1 Tbsp. balsamic vinegar

3 Tbsp. vegetable oil

as needed cooking spray

1¼ tsp. salt, kosher

1¼ tsp. fresh ground black pepper

2 2/3 cups Shredded Chihuahua® Brand Quesadilla Cheese from V&V SUPREMO®
6 Steps to complete
1

Preheat a cast iron griddle over medium heat for 3 minutes.

2

Meanwhile in a medium bowl, combine the balsamic vinegar, vegetable oil, salt and pepper, whisk until the mixture is fully emulsified approximately 2 minutes. Add the mushroom and allow to marinade while the griddle is preheating.

3

Spray the surface of the griddle with cooking spray.

4

Grill the mushrooms on both sides for 1 minute each. When cool enough to handle slice into strips approximately ¼ of an inch thick.

5

Lower the temperature to medium low. It is important that the skillet temperature is not too high, so that the tortillas do not harden or overcook before the cheese fully melts. Heat tortillas for 30 seconds on one side, flip tortillas. Add to each 1/3 cup Shredded Chihuahua® Brand Quesadilla Cheese from V&V SUPREMO®, 5 strips of mushrooms (approximately 3 tbsp.) to each tortilla. Fold tortillas in half.

6

Using a spatula lightly press down on the quesadillas and cook each side for approximately 1 minute. Cheese should be fully melted and golden brown grill marks should be visible on both sides of the quesadillas. Repeat with remaining tortillas. Serve quesadillas with green pea coulis made with Supremo® Brand Mexican Sour Cream from V&V SUPREMO®. Enjoy!
Comments
WHERE TO BUY
Missing some of the ingredients produced by VV Supremo? Find the nearest store in your area:
Find Store Now!
Store Locator
Great Places You Can Find
Our Products

Find A Store Now!
Available At
Great Places You Can Find
Our Products