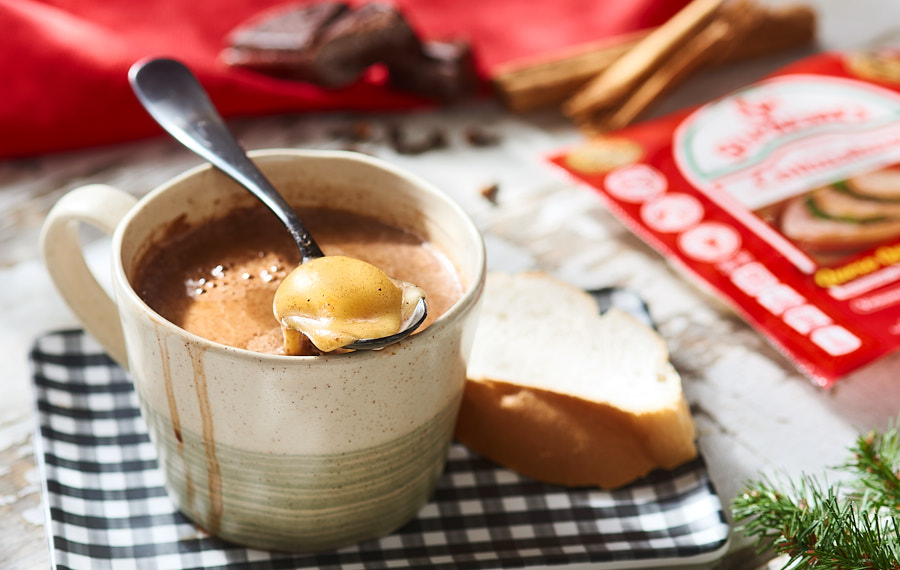 Hot Chocolate con Queso
by
V & V Supremo Foods, Inc.
Traditional Colombian Hot Chocolate with cheese is the inspiration for our Hot Chocolate con Queso. Rich stone-ground chocolate, Mexican canela cinnamon, and whole cloves are steeped in milk then poured over a chunk of Chihuahua® Cheese. We stir and froth up this tasty beverage with a wooden molinillo stirrer for an authentic taste of the original recipe.


Ingredients
4½ cups whole milk

1 stick Mexican cinnamon

5 whole cloves

1½ round tablets Mexican chocolate

½ pkg. (8 oz.) Chihuahua® Brand Quesadilla Cheese from V&V SUPREMO®, room temperature, sliced into 4 large chunks

4 pieces French baguette, warmed (optional)
2 Steps to complete
1

In a pot or sauce pan; combine milk, cinnamon, cloves, and chocolate. Gently warm milk for 2 to 3 minutes over medium heat, stirring constantly with a whisk or molinillo. When the milk begins to bubble and froth up, reduce heat to medium-low and simmer for an additional 8 to 10 minutes or until chocolate is fully dissolved. Discard cinnamon and cloves before serving.

2

Prepare each mug with 1 chunk of Chihuahua® Cheese. Pour hot chocolate over cheese. Serve Hot Chocolate con Queso with crusty bread and enjoy!
Comments
Related products
WHERE TO BUY
Missing some of the ingredients produced by VV Supremo? Find the nearest store in your area:
Find Store Now!
Store Locator
Great Places You Can Find
Our Products

Find A Store Now!
Available At
Great Places You Can Find
Our Products