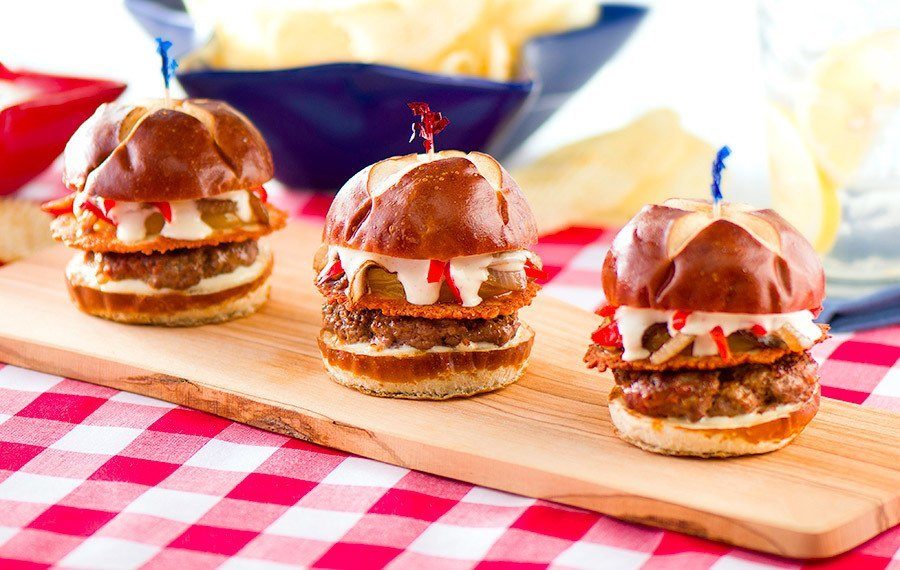 Mini-Burgers with Chorizo
by
V & V Supremo Foods, Inc.
If you're looking to really kick things up at your next backyard cookout, this savory version of Mini- Burgers with Chorizo will do just that! Your guests will be asking for more!


Ingredients
1 link from 14 oz. pkg. Supremo® Brand Pork Chorizo from V&V SUPREMO®

1 lb. ground chuck, (80% lean / 20% fat)

Wax paper

2¾ cups Grated Sierra® Brand Cotija Cheese from V&V SUPREMO® for Cotija crisps

3 heirloom tomatoes, stem removed

1 Tbsp. extra virgin olive oil

1 tsp. kosher salt

1 tsp. ground black pepper

¾ medium Vidalia onion, sliced into half moons

1 Tbsp. vegetable oil

1½ tsp. balsamic vinegar

12 peppadew peppers from jar, drained

12 mini pretzel buns, split in half
10 Steps to complete
1

For the meat: Place ground beef in a medium bowl. Break up Supremo® Brand Pork or Beef Chorizo into smaller pieces and mix well with the ground beef until well combined.

2

Separate the meat into 12 portions, approximately 2 oz. each. Form into balls (if a scale is available weigh for even distribution).

3

Place one ball in between two pieces of wax paper, use a large flat-bottomed dinner plate, press meatballs with even force. The patty should be thin, and larger than the buns. Place the patty on a separate plate. To prevent them from sticking to each other place wax paper inbetween patties. Repeat with all meatballs. Set aside.

4

For the cheese crisps: Preheat a griddle or nonstick pan for 2 minutes over medium-high heat. Turn the heat to low and mound 2 Tbsp. of Grated Sierra® Brand Cotija Cheese from V&V SUPREMO® for each crisp. Press down with the tablespoon to a 2 inch diameter and cook for 1 minute on each side. Set aside.

5

Grill tomato slices: Preheat griddle over medium heat for 2 minutes. Meanwhile, cut each tomato into 4 slices approximately ¼ of an inch thick. Brush the slices with extra virgin olive oil on each side. Season with ½ tsp. of salt and ½ tsp. of black pepper, grill for 1 minute on each side. Set aside.

6

Caramelize onion: Preheat a skillet for a minute over medium heat. Add vegetable oil and heat for 1 minute. Add onion and cook until translucent (approximately 8 minutes) while stirring occasionally. Season with ½ tsp. salt and ½ tsp. black pepper, add balsamic vinegar. Continue to cook for 1 minute. Onion should be tender and deep golden brown. Set aside.

7

Peppadew peppers: Slice the peppers in half lengthwise, remove any seeds. Continue to slice lengthwise into thin strips. Set aside.

8

For the burgers: Wipe the griddle with a kitchen towel. Place patties on the griddle and cook for 2 minutes on each side. (or until fully cooked). Repeat with the remaining patties and set aside.

9

For the buns: Warm the buns on the griddle for approximately 30 seconds on each side.

10

To assemble: Spread aioli made with Supremo® Brand Mexican Sour Cream from V&V SUPREMO® on the bottom bun, top with a patty followed by cotija crisp, tomato, onions, and sliced peppers. Spread aioli on a bun top and cover the mini-burger. Secure with a frilled toothpick. Enjoy!
Comments
Related products
WHERE TO BUY
Missing some of the ingredients produced by VV Supremo? Find the nearest store in your area:
Find Store Now!
Store Locator
Great Places You Can Find
Our Products

Find A Store Now!
Available At
Great Places You Can Find
Our Products