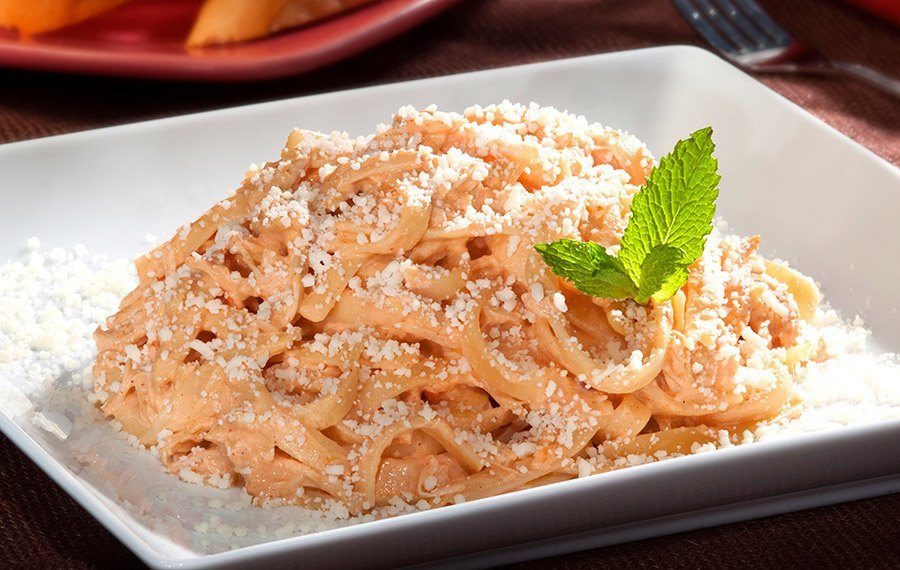 Pasta with Chicken and Achiote
by
V & V Supremo Foods, Inc.
Pasta and chicken is a very common combination. Give it a twist by adding achiote, a special seasoning from Yucatan. We're sure that everyone will enjoy it!


Ingredients
2 lbs. chicken (boneless, skinless, chicken breast)

1 lb. fettuccini pasta

¼ pkg. (3.5 oz. pkg.) achiote paste

8 garlic cloves, (4 minced, 4 whole)

3 bay leaves

3 whole cloves

salt to taste

4 Tbsp. olive oil

¼ cup fresh lime juice

1 cup orange juice

1 habanero pepper, minced

15oz.  Supremo® Brand Mexican Sour Cream from V&V SUPREMO®

3 cups Shredded Chihuahua® Brand Quesadilla Cheese from V&V SUPREMO®

1 cup Grated Sierra® Brand Cotija Cheese from V&V SUPREMO®
5 Steps to complete
1

Place chicken in a small saucepan with 4 cups water, 2 garlic cloves, and 2 teaspoons of salt. Place on high heat. When water comes to a boil, lower heat to medium. Cook chicken for 12 minutes or until fully cooked. Remove from the broth. Let it cool and shred.

2

For achiote: In a medium bowl, dissolve the achiote paste with the orange and lime juice. Add the minced habanero pepper and set aside.

3

For pasta: Place 12 cups of water, 2 garlic cloves, bay leaves, cloves, 2 tablespoons of oil, and 3 teaspoons of salt in a large pot. Bring to boil over medium heat. Add pasta and let it cook for 10 minutes, or until done to your liking. Drain pasta from the water and set aside.

4

Preheat a large saucepan on medium-high heat for 1 minute. Add 2 Tablespoons of olive oil. Sauté minced garlic for 30 seconds and add the achiote mixture. Cook for 30 seconds more.

5

Add the pasta, chicken, sour cream, and mix. Cook for 1 minute. Add shredded cheese and mix well until the cheese is fully melted. Add salt to taste. Serve and sprinkle Sierra® Cotija cheese on top. Enjoy!
Comments
Related products
WHERE TO BUY
Missing some of the ingredients produced by VV Supremo? Find the nearest store in your area:
Find Store Now!
Store Locator
Great Places You Can Find
Our Products

Find A Store Now!
Available At
Great Places You Can Find
Our Products