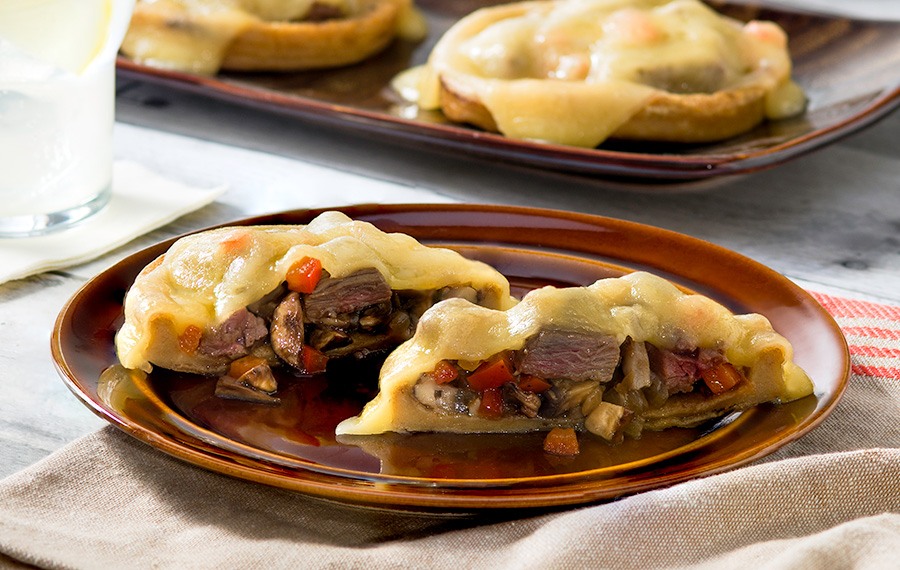 Philly Cheese Steak Sopes
by
V & V Supremo Foods, Inc.
Adding a V&V Supremo® touch to a Philly Cheese Steak is how a classic dish gets even better!


Ingredients
5 oz. sirloin steak cut into bite size pieces

¼ tsp. salt, divided

¼ tsp. ground black pepper, divided

½ Tbsp. vegetable oil

4 sopes from (10 oz.) package from V&V Supremo®

1 Tbsp. olive oil

¼ cup white onion, small dice

1 garlic clove, minced

¼ cup red bell pepper, small dice

¼ cup Bella mushroom, small dice

1 Tbsp. Worcestershire sauce

8 slices from (8 oz.) pkg. Chihuahua® Brand Quesadilla Cheese from V&V SUPREMO®
8 Steps to complete
1

Preheat the oven to 375°F.

2

Season steak with ⅛ tsp. salt and ⅛ tsp. black pepper. Set aside.

3

In a skillet, warm ½ Tbsp. vegetable oil for 3 minutes on medium heat. Place 4 sopes on the skillet and warm for 5 minutes on one side. Cover the pan. Flip the sopes. Keep the skillet uncovered, and warm sopes for 5 additional minutes. Remove sopes from the skillet and set aside.

4

Add 1 Tbsp. olive oil into the same skillet and warm on med-high heat for 3 minutes.

5

Add in onion, garlic, and red pepper. Sauté for 1 minute.

6

Add in mini Bella mushroom, and the remainder of salt, and pepper. Sauté for 3 minutes.

7

Add in seasoned sirloin steak and cook for 4 minutes. Mix in Worcestershire sauce and continue to cook for 1 minute.

8

Place meat mixture evenly into each sope and place on a sheet tray. Top each sope with 2 slices of cheese and place in the oven for 3 minutes. Once melted, serve and enjoy!
Comments
Related products
WHERE TO BUY
Missing some of the ingredients produced by VV Supremo? Find the nearest store in your area:
Find Store Now!
Store Locator
Great Places You Can Find
Our Products

Find A Store Now!
Available At
Great Places You Can Find
Our Products