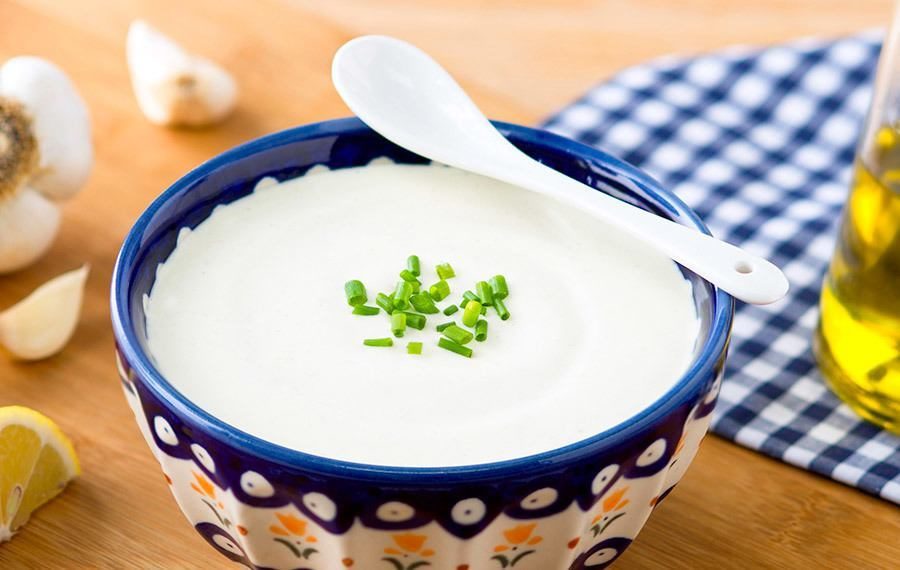 Roasted Garlic Aioli
by
V & V Supremo Foods, Inc.
This classic Spanish sauce from Catalonia in Northeastern Spain can be paired with an array of preparations including, roasted vegetables, meats, poultry, and seafood.


Ingredients
4 medium garlic cloves

½ tsp. vegetable oil

2 egg yolks

1 cup Supremo® Brand Mexican Sour Cream from V&V SUPREMO®

2 tsp. white wine vinegar

¼ tsp. lemon juice

¾ tsp. fine sea salt

½ tsp. ground white pepper

1 cup of extra virgin olive oil
4 Steps to complete
1

In a mixing bowl, toss unpeeled garlic with vegetable oil and place in a sauté pan over medium low heat. Turn cloves periodically and roast until skins lightly blacken and garlic softens, about 17 minutes.

2

Peel the cloves, roughly chop and mash into a paste.

3

Wipe the bowl with a paper towel. Add the yolks and whisk for 30 seconds, add garlic paste, Supremo® Brand Mexican Sour Cream from V&V SUPREMO®, vinegar, lemon juice, salt and white pepper. Whisk for 30 seconds until well combined.

4

Transfer contents of the bowl to a blender. Cover and blend at medium speed, remove the center of lid from blender. Gradually pour the olive oil in a thin steady stream. Return the center of the lid and blend at high speed for 1 minute. Aioli should be emulsified completely. Enjoy!
Comments
Related products
WHERE TO BUY
Missing some of the ingredients produced by VV Supremo? Find the nearest store in your area:
Find Store Now!
Store Locator
Great Places You Can Find
Our Products

Find A Store Now!
Available At
Great Places You Can Find
Our Products