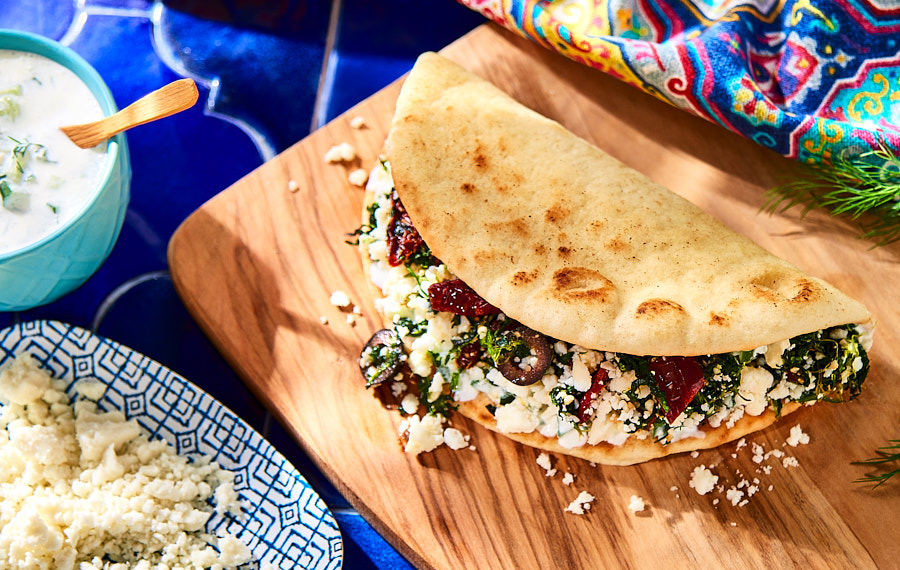 Spinach Stuffed Pitas
by
V & V Supremo Foods, Inc.
Get dinner ready in just 30 minutes! Enjoy these delicious Spinach Stuffed Pitas packed with seasoned onion, garlic, dill, and oregano. With a spread of Tzatziki Sauce this makes a shell of a recipe!


Ingredients
Cheese
1 (4 oz.) pkg. V&V SUPREMO® Brand Queso Fresco Cheese

1 (4.05 oz.) Wedge Sierra® Brand Cotija Cheese from V&V SUPREMO®
7 Steps to complete
1

Cheese: Crumble queso fresco cheese and place in a bowl. Cut Cotija cheese wedge in half lengthwise and crumble the cheese roughly. Reserve 2 Tbsp. of Cotija cheese for the sauce. Divide the rest of crumbled Cotija cheese in half, combine one the halves with the queso fresco cheese and set the rest aside for the filling.

2

Tzatziki Sauce: Combine sour cream, cucumber, garlic, dill, lemon juice, salt, and the 2 Tbsp. of crumbled Cotija cheese that was reserved in a bowl. Mix and refrigerate until ready to use.

3

Add 1 Tbsp. olive oil to a medium pan and heat over medium heat for 1 minute. Add onion and sauté for 1 minute. Stir in garlic and sauté for 30 seconds. Add sundried tomatoes, spinach, salt, pepper, and oregano; cook for 4 minutes. Turn off the heat. Add olives, dill, and the reserved crumbled Cotija cheese. Divide the mixture into 4 portions and set aside.

4

Preheat a skillet or griddle for 1 minute over medium-low heat.

5

Use remaining olive oil to brush both sides of each pita bread. Place pita bread on skillet and warm each side for 30 seconds.

6

Spread about 2-3 Tbsp. of tzatziki sauce on each pita bread and 1 portion of spinach mixture, and 2-3 Tbsp. of crumbled cheese mixture on top.

7

Serve warm with remaining tzatziki sauce on the side and ENJOY!!!
Comments
WHERE TO BUY
Missing some of the ingredients produced by VV Supremo? Find the nearest store in your area:
Find Store Now!
Store Locator
Great Places You Can Find
Our Products

Find A Store Now!
Available At
Great Places You Can Find
Our Products