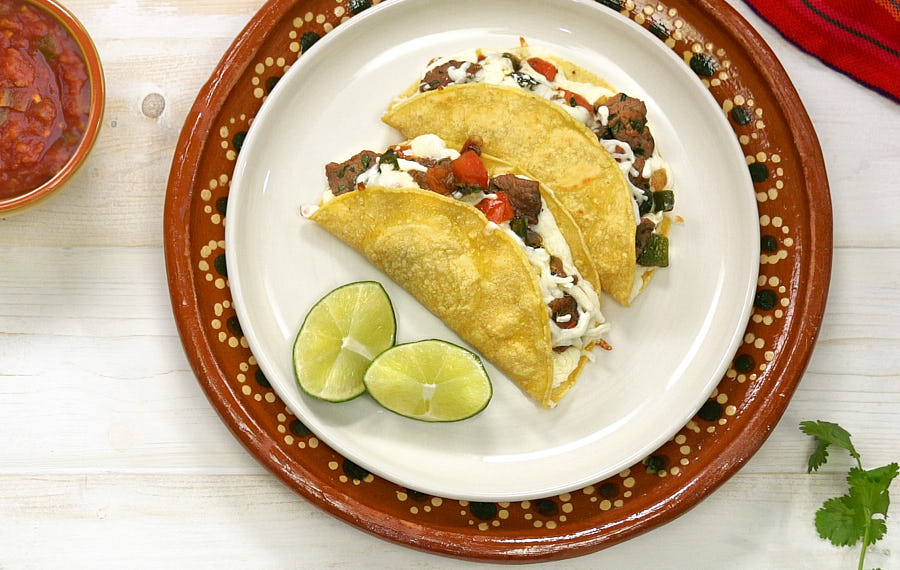 Steak and Oaxaca Cheese Tacos
by
V & V Supremo Foods, Inc.
Our recipe for Steak and Oaxaca Cheese Tacos is in the style of traditional Mexican taquerias. Seared Oaxaca Cheese makes this dish particularly delicioso!


Ingredients
1 Tbsp. vegetable oil

⅓ cup white onion, medium dice

½ cup poblano pepper, seeds removed, medium dice

½ lb. sirloin steak, chopped

½ tsp. kosher salt

½ tsp. garlic powder

¼ tsp. ground black pepper

½ Tbsp. Worcestershire sauce

½ cup Roma tomato, seeds removed, medium dice

2 Tbsp. fresh cilantro, chopped

6 (6-inch) corn tortillas

1 (7.06 oz.) pkg. Shredded Oaxaca Cheese from V&V Supremo®

Salsa of your choice (optional)
4 Steps to complete
1

Preheat oil in a cast iron skillet for 2 minutes over medium high heat. Add onion and sauté for 1 minute. Add poblano pepper and cook for 1 to 2 minutes.

2

Add steak, salt, garlic powder, and black pepper. Cook steak for 1 to 2 minutes, stirring occasionally. Add Worcestershire sauce and continue to cook for 3 to 5 minutes. Add tomato and cook for an additional 2 minutes. Remove from heat and mix in cilantro. Divide steak into 6 portions and keep warm.

3

Preheat a nonstick griddle or comal for 1 minute over medium heat; warm tortillas for 1 minute on each side. Top each tortilla with ¼ cup Cheese and allow cheese to melt for 30 seconds to 1 minute. Add 1 portion of steak to each tortilla, fold over, and cook for 1 to 2 minutes or until cheese is melted. Remove from heat and top tacos with additional Shredded Cheese.

4

Serve with your favorite salsa. Enjoy!
Comments
Related products
WHERE TO BUY
Missing some of the ingredients produced by VV Supremo? Find the nearest store in your area:
Find Store Now!
Store Locator
Great Places You Can Find
Our Products

Find A Store Now!
Available At
Great Places You Can Find
Our Products