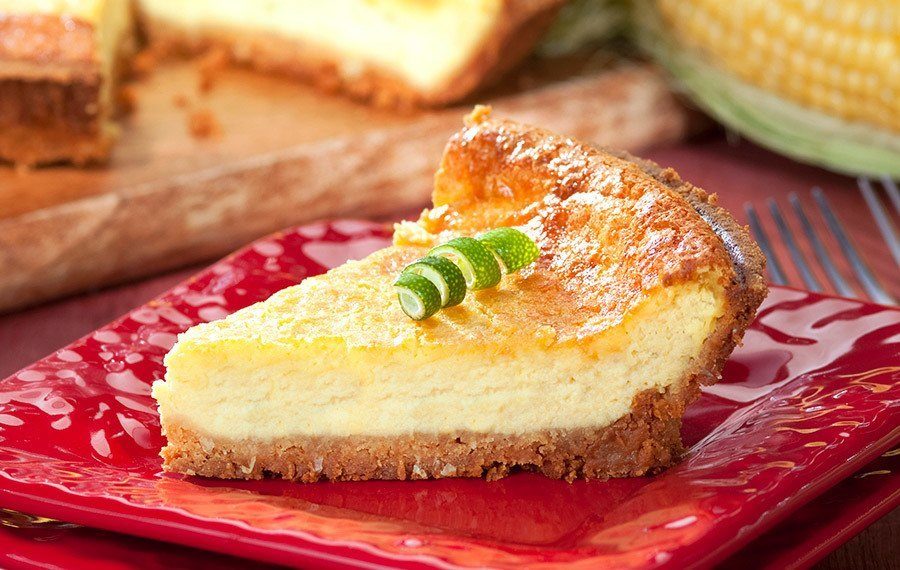 Sweet Corn Pie
by
V & V Supremo Foods, Inc.
Sweeten your palate with a delicious dessert that everyone will love with creamy ingredients you'll guaranteed to savor!


Ingredients
1 (15 oz.) container Supremo® Brand Mexican Sour Cream from V&V SUPREMO® (½ cup reserved for garnish)

½ cup + 2 Tbsp. sweetened condensed milk

3 large eggs

3 Tbsp. granulated sugar

2¼ cups frozen super sweet corn kernels, thawed

½ Tbsp. vanilla extract

½ Tbsp. lime zest, minced

1- 9 oz. 10 inch premade graham cracker pie crust
5 Steps to complete
1

Preheat oven to 350°F.

2

Place 1¼ cup sour cream in the blender. Add condensed milk, eggs, sugar, corn and vanilla. Blend for 1 minute at medium speed. Turn blender off. Add lime zest and blend for 15 more seconds.

3

Let mixture rest in blender until foam dissipates and liquid settles (a few minutes). Pour mixture into pie crust, leaving about ¼ inch space on top (there may be a little mixture left over). Place pie on a baking sheet.

4

Carefully place baking sheet in oven. Bake for 1 hour and 15 minutes or until toothpick inserted in center of pie comes out clean.

5

Turn oven off. Keep pie in oven for 15 more minutes, this allows the pie to settle (removing it from the oven immediately could cause it to collapse). Remove pie from oven and let cool on a rack at room temperature. Slice pie into 8 portions. Serve with reserved sour cream on top.
Comments
Related products
WHERE TO BUY
Missing some of the ingredients produced by VV Supremo? Find the nearest store in your area:
Find Store Now!
Store Locator
Great Places You Can Find
Our Products

Find A Store Now!
Available At
Great Places You Can Find
Our Products