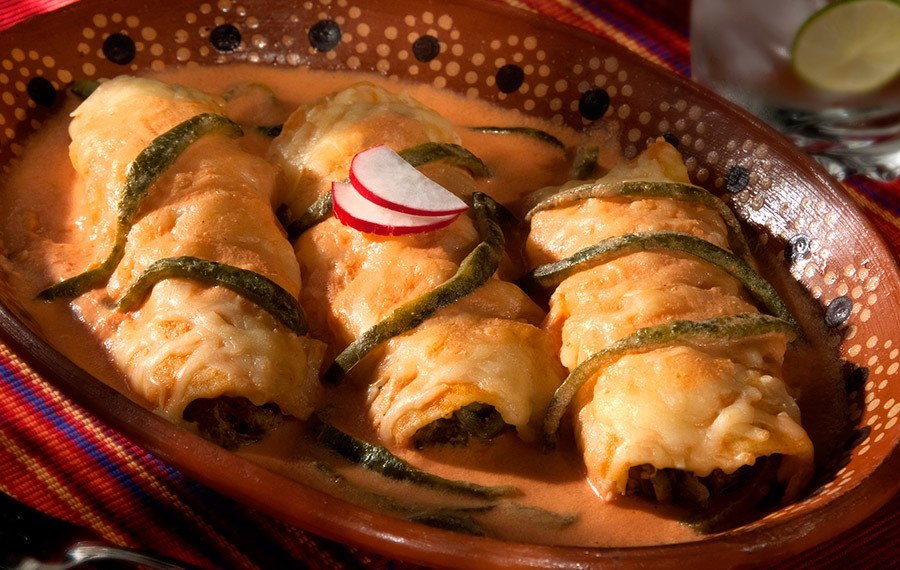 Tacos Laguneros
by
V & V Supremo Foods, Inc.
Care for one of the most delicious and traditional dishes in all of Mexico? Of course you do! Taste this amazing Tacos Laguneros recipe and share with all your friends!


Ingredients
8 8 medium poblano peppers, roasted, peeled, deveined and seeded

1 lb. plum tomatoes, cut into quarters

¼ ¼ small white onion, peeled (in one piece)

½ serrano pepper, seeds removed (or to taste)

1 garlic clove, peeled, whole

1 cube chicken bouillon

1¾ tsp. kosher salt

1 cup Supremo® Brand Mexican Sour Cream from V&V SUPREMO®

¼ cup + 1 Tbsp. vegetable oil

12 corn tortillas

3½ cups Shredded Chihuahua® Brand Quesadilla Cheese from V&V SUPREMO®
8 Steps to complete
1

Preheat oven to 350°F.

2

Cut poblanos into ¼ inch wide strips. Reserve.

3

Place tomatoes, pepper, and onions in (3 quart) saucepan. Add water just to cover (about 2½ cups). Place over medium heat and bring to boil. Cook for 5 minutes. Remove from heat.

4

Carefully add contents of pan to blender along with garlic and salt. Remove center of lid from blender and place a kitchen towel over top to allow steam to escape. Blend for 1 minute. Add sour cream. Blend for 1 more minute or until smooth.

5

Place a medium saucepan over medium heat for 1 minute. Add 1 Tbsp. of oil. After 1 more minute, carefully pour blended sauce into saucepan. Add poblano strips and bouillon. Cook for 10 minutes, stirring occasionally.

6

Place ¼ cup oil in a medium skillet. Place skillet over medium heat. When oil is hot (350°F), place tortillas carefully one at a time in oil (using tongs) for 15 seconds on each side. Place tortillas on paper towels to drain excess oil.

7

Using tongs, dip tortillas one at a time in sauce, and place in two 9 inch by 13-inch glass baking dishes (6 tortillas in each). Portion about 2 Tbsp. of Chihuahua® cheese, and a portion of poblanos from sauce into each tortilla. Fold tortillas in half. Arrange tortillas in a single layer. Top with 2 cups of Chihuahua® Cheese. Place in oven for 10-15 minutes or until cheese is fully melted.

8

Serve 3 tacos for each portion. Spoon ½ cup of sauce with remaining poblanos over each portion. Enjoy!
Comments
WHERE TO BUY
Missing some of the ingredients produced by VV Supremo? Find the nearest store in your area:
Find Store Now!
Store Locator
Great Places You Can Find
Our Products

Find A Store Now!
Available At
Great Places You Can Find
Our Products