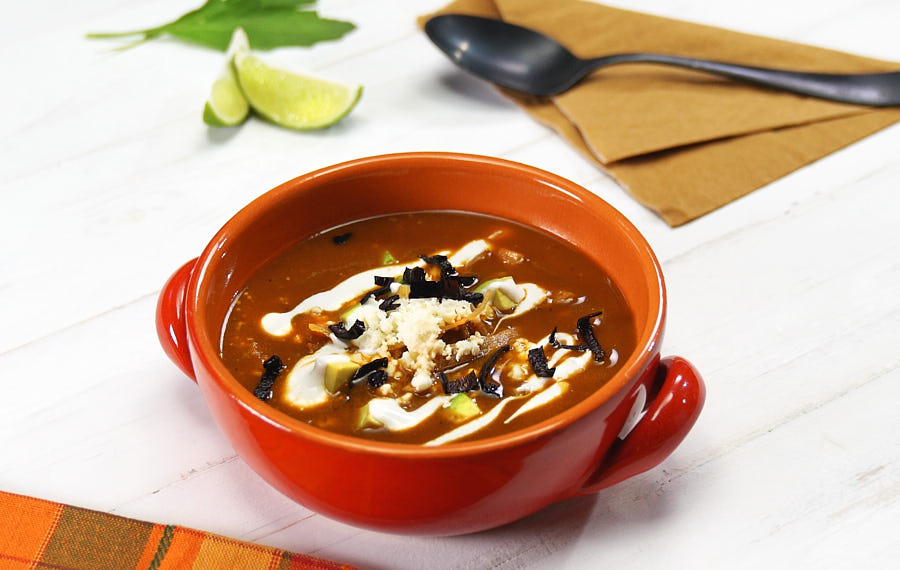 Tortilla Soup
by
V & V Supremo Foods, Inc.
Tomatoes, onions, garlic, and pasilla chile, provides the foundation for this hearty tortilla soup, perfect for warming you up on a chilly Fall day. The crunchy tortilla strips add texture and the right consistency to this flavorful broth. The creamy Queso Fresco and the freshness of the Supremo® Crema compliment this dish to perfection. This is an easy and fulfilling Mexican dish that you are going to love!


Ingredients
4 dried pasilla peppers stems and seeds removed, divided

12 (6-inch) corn tortillas, divided

¼ cup Vegetable oil

4 Roma tomatoes

2 large cloves garlic, peeled

½ white onion

4 cups unsalted chicken broth, divided

1 Tbsp. Kosher salt or to taste

¼ tsp. ground black pepper

1 sprig epazote
5 Steps to complete
1

Thinly slice 2 of the pasilla peppers into thin strips. Set aside.

2

Cut 10 tortillas into ¼ -inch strips. Set aside.

3

Preheat oil in a large heavy pot, over medium heat for 1 minute. Add the sliced chiles to the hot oil and fry for 5-7 seconds. Do not over-fry the chiles or they will get bitter. Using a slotted spoon, remove strips from oil and drain on paper towels. Set aside. Using metal tongs, fry the other pasilla peppers for about 5-7 seconds. They should bubble up slightly and become aromatic. Set aside. Increase the heat to high, fry tortilla strips in batches for 1-2 minutes, until golden and crisp. Remove with a slotted spoon and drain on paper towels. Repeat with the remaining tortilla strips and set aside.

4

In a medium pot place tomatoes, onion, garlic and water. Bring to a boil and cook for 10 minutes. Remove from heat. Purée tomatoes, garlic, onion, 2 corn tortillas, remaining 2 pasilla peppers, 2 cups of chicken broth, salt and pepper in the blender. Strain over a large saucepan. Add the remaining 2 cups chicken broth and epazote. Bring the mixture to a boil, reduce the heat, cover pot and simmer for 15- 20 minutes.

5

To serve soup, add tortilla strips to the bottom of bowls and crumbled Queso Fresco Cheese. Ladle soup over halfway up to tortilla strips. Garnish with more cheese, Sour Cream, avocado and pepper strips. Enjoy!
Comments
WHERE TO BUY
Missing some of the ingredients produced by VV Supremo? Find the nearest store in your area:
Find Store Now!
Store Locator
Great Places You Can Find
Our Products

Find A Store Now!
Available At
Great Places You Can Find
Our Products