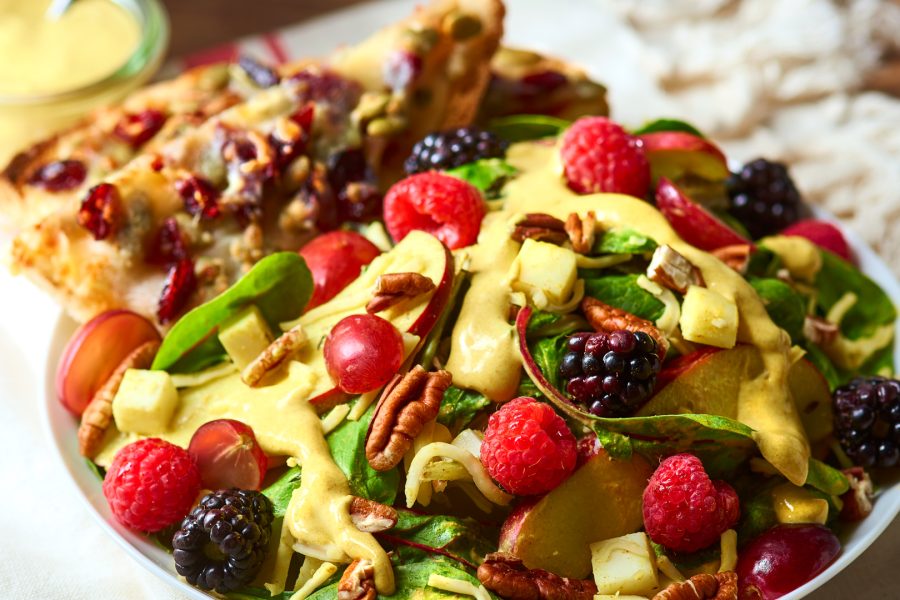 Berry Salad with Turmeric Dressing
by
V & V Supremo Foods, Inc.
Berry Salad with Turmeric Dressing is a big salad with grown-up taste! This garden creation pairs fresh produce with Chihuahua® Brand Quesadilla Cheese Toast to make a dish that will satisfy healthy appetites.


Ingredients
Turmeric Dressing
1 tsp. Kosher salt

1 tsp. granulated sugar

⅛ tsp. ground black pepper

1 tsp. lemon zest

1 tsp. dry thyme

1 Tbsp. Dijon mustard

1 Tbsp. ground turmeric

¾ cup Supremo® Brand Mexican Sour Cream from V&V SUPREMO®
7 Steps to complete
1

Preheat broiler to 500°F or high heat.

2

In a medium bowl; combine salt, sugar, black pepper, lemon zest, thyme, Dijon mustard, turmeric, Sour Cream, and whisk together until fully combined. Refrigerate dressing until needed.

3

Preheat a medium skillet for 1 minute over medium heat. Remove the plastic casing from Chorizo and cook for 8 to 10 minutes, breaking up with a spoon while cooking.

4

Lightly toast sourdough bread in a pop-up toaster on low or until bread is warmed through.

5

Top each slice of toast with 1 tablespoon cooked Chorizo, ¼ cup Chihuahua® Cheese, 1 tablespoon pumpkin seed, 1 tablespoon dry cranberries, and 1 additional tablespoon cheese. Transfer bread to a sheet tray. Broil for 30 seconds to 1 minute or until cheese is melted and golden. Allow cheese toast to cool slightly and cut slices diagonally from corner to corner.

6

In a large bowl; combine lettuce, apple slices, and lemon juice. Add Chihuahua® Cheese, Cotija Cheese, and ¼ cup dressing. Gently toss to coat. Top with blackberries, raspberries, grapes, and pecans.

7

Serve dressed Berry Salad with Turmeric Dressing, warm cheese toast, and enjoy!
Comments
WHERE TO BUY
Missing some of the ingredients produced by VV Supremo? Find the nearest store in your area:
Find Store Now!
Store Locator
Great Places You Can Find
Our Products

Find A Store Now!
Available At
Great Places You Can Find
Our Products