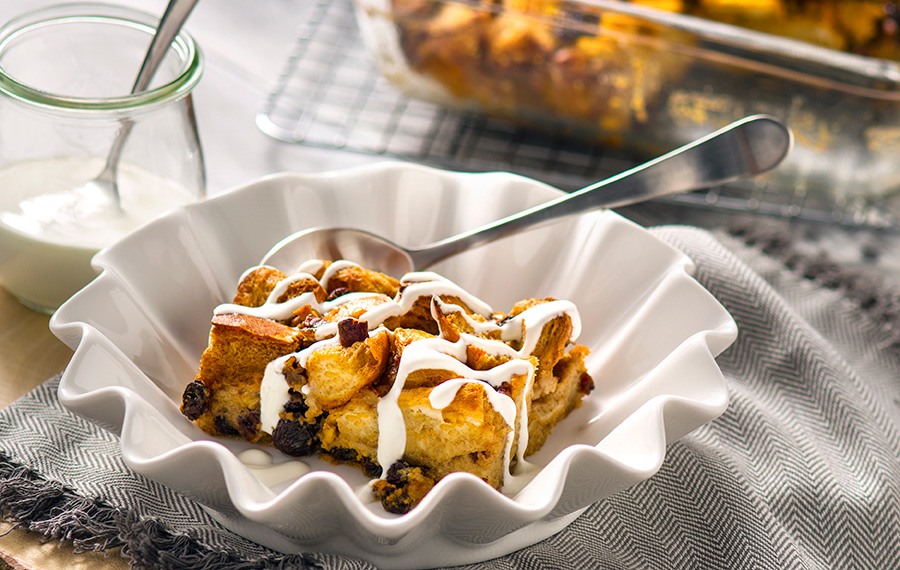 Bread Pudding
by
V & V Supremo Foods, Inc.
It's not necessary to spend all afternoon trying to make a delightful Bread Pudding with this easy and delicious dessert! Try it today and enjoy every bite!


Ingredients
3 Tbsp. unsalted butter, melted and slightly cooled

1 + ½ cup Supremo® Brand Mexican Sour Cream from V&V SUPREMO® divided

¾ cup whole milk

2 large eggs

½ cup dark brown sugar, packed

1 Tbsp. vanilla extract

1 tsp. ground cinnamon

⅛ tsp. nutmeg

⅛ tsp. kosher salt

¼ cup pecans, chopped

½ cup raisins

4 cups day old bread, medium dice

non-stick spray
6 Steps to complete
1

Lightly coat an 8"x8" baking dish with non-stick spray. Set aside.

2

In a medium bowl whisk butter, 1 cup sour cream, milk, eggs, brown sugar, vanilla, cinnamon, nutmeg, and salt. Fold in pecans, raisins, and bread. Fold thoroughly to ensure the bread gets soaked and coated with the rest of the ingredients.

3

Transfer bread pudding mixture into the baking dish. Cover baking dish with plastic wrap and let bread soak into mixture for 20-30 minutes in the refrigerator.

4

Preheat oven to 350F.

5

Remove from refrigerator, remove plastic; bake for 35 minutes. To ensure doneness, insert a toothpick in the center and make sure it comes out clean.

6

Let bread pudding set and rest at room temperature for 10 minutes. Use remaining sour cream to drizzle over each serving of the bread pudding and enjoy!
Comments
Related products
WHERE TO BUY
Missing some of the ingredients produced by VV Supremo? Find the nearest store in your area:
Find Store Now!
Store Locator
Great Places You Can Find
Our Products

Find A Store Now!
Available At
Great Places You Can Find
Our Products