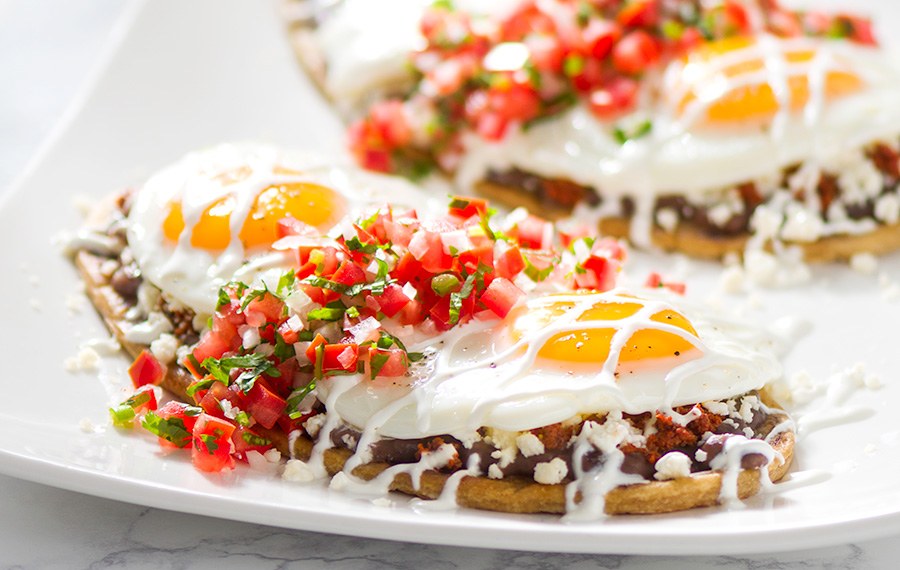 Breakfast Huaraches
by
V & V Supremo Foods, Inc.
Begin your day with this hearty, authentic Mexican breakfast with chorizo, refried beans, over-easy eggs, and pico de gallo!


Ingredients
Pico de Gallo
½ cup roma tomato, small dice and de-seeded

2 Tbsp. white onion, finely chopped

1 Tbsp. cilantro, chopped

1 tsp. lime juice

1 tsp. serrano pepper, finely chopped (de-seeded & de-veined)

1/8 tsp. kosher salt
13 Steps to complete
1

Pico de Gallo: In a small bowl combine tomato, onion, cilantro, lime juice, serrano pepper, and salt. Stir to combine. Refrigerate until ready to use.

2

Chorizo: Pre-heat a small sauté pan for 2 minutes on medium heat. Add in 1 link of chorizo to the pan and cook for 10-12 minutes (break up chorizo while cooking). Remove from pan, set aside, and cover to keep warm.

3

Refried Black Beans: Using the same pan, add 2 Tbsp. of vegetable oil to the pan. Keep the pan on medium heat, add in onion and sauté for 1 minute.

4

Add garlic and sauté for 30 seconds. Stir in refried beans. Add in chicken stock and stir until the beans have soaked up the liquid (4-5 minutes). Set aside and keep warm.

5

Huaraches: Add 1 Tbsp. of oil onto a large skillet or a griddle and heat for 2 minutes on medium heat.

6

Place 2 huaraches onto the pan and cover the pan with foil. Warm huaraches for 3 minutes (covered) on medium heat.

7

Remove foil, flip huaraches over and continue to heat for 2 minutes uncovered. Remove and set aside. Follow the same cooking process to cook the remaining (2) huaraches.

8

Eggs: Pre-heat 2 tsp. vegetable oil on a medium non-stick sauté pan on low heat for 2 minutes.

9

Crack 2 eggs into the pan. Let the eggs cook for 4-5 minutes and add 1 tsp. of butter to the pan. Baste your eggs with butter until whites are set and a film forms over the yolks; season eggs with 1/8 tsp. salt and 1/8 tsp. black pepper and continue to cook for 2 more minutes. Do not flip them over.

10

Repeat the process for the remaining eggs.

11

To assemble your huaraches. Spread about ¼ cup of refried black beans on top of 1 huarache. Spread 1 Tbsp. of sour cream over the beans and add ¼ cup chorizo on top the sour cream. Add about ¼ cup of Queso Fresco on top of the beans and lay 2 sunny-side up eggs on top of the cheese.

12

Drizzle sour cream over the eggs (about 2 Tbsp.) Add about 2 Tbsp. of Pico de Gallo between the eggs. Repeat this process for the remaining huaraches.

13

Serve warm and enjoy!
Comments
Related products
WHERE TO BUY
Missing some of the ingredients produced by VV Supremo? Find the nearest store in your area:
Find Store Now!
Store Locator
Great Places You Can Find
Our Products

Find A Store Now!
Available At
Great Places You Can Find
Our Products