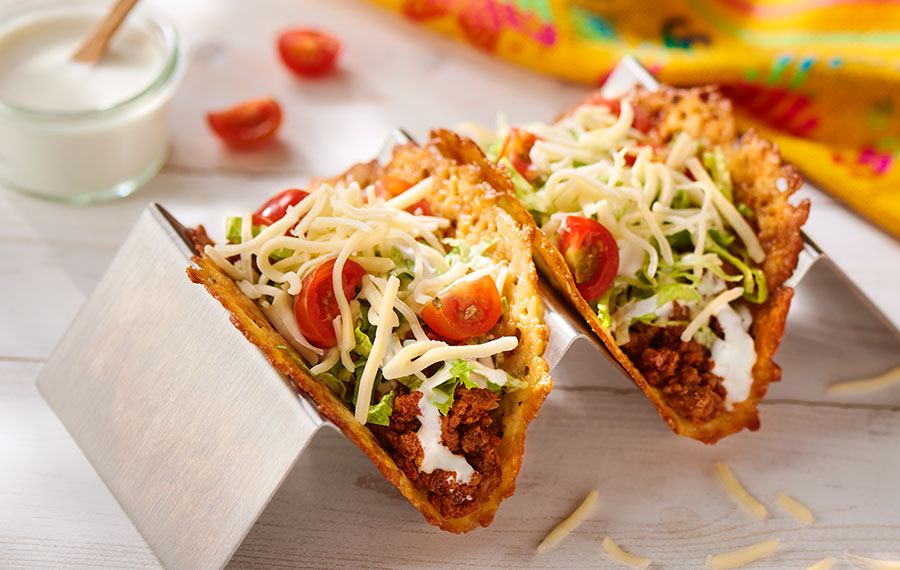 CHEESE SHELL TACOS
by
V & V Supremo Foods, Inc.
CHEESE SHELL TACOS where have you been all my life? Chihuahua® Cheese taco shells are filled with perfectly seasoned Pork Chorizo, ground beef, and topped with Supremo® Sour Cream. ¡Estos tacos están riquísimos!​


Ingredients
Taco Meat
½ link from (14 oz.) pkg. Supremo® Brand Pork Chorizo from V&V SUPREMO®

2 Tbsp. white onion, diced

1 clove garlic, crushed

½ lb. ground beef 90/10

⅛ tsp Kosher salt

⅛ tsp ground black pepper

1½ Tbsp. tomato paste
6 Steps to complete
1

Preheat oven to 375°F. Line a baking sheet with parchment paper and set aside.

2

Preheat a skillet for 2 minutes over medium heat. Sauté chorizo for 2 minutes, crumbling with a spoon while cooking. Add onion, garlic, and continue to cook for 1 minute. Add ground beef, salt, black pepper, and tomato paste. Stir to combine and cook for 7 to 8 minutes or until meat mixture reaches an internal temperature of 165°F. Divide into 6 portions. Cover and keep warm until needed.

3

In a bowl; mix together 1¾ cups Chihuahua® Cheese and ⅓ cup Cotija Cheese. Divide cheese mixture into 6 equal portions.

4

Mound each portion of cheese 2 inches apart on the prepared baking sheet. Press each cheese mound down slightly to form an even layer. Bake cheese taco shells for 5 minutes, rotate pan for even cooking to avoid hot spots. Bake for an additional 2 to 3 minutes or until small bubbles appear across the cheese surface and the edges begin to brown.

5

Remove from oven and let cheese taco shells cool for several minutes. Use a paper towel to dab off excess oil.

6

Fill each taco shell with 1 portion taco meat. Top with lettuce, Sour Cream, tomato, and extra Chihuahua® Cheese. Serve & enjoy!
Comments
WHERE TO BUY
Missing some of the ingredients produced by VV Supremo? Find the nearest store in your area:
Find Store Now!
Store Locator
Great Places You Can Find
Our Products

Find A Store Now!
Available At
Great Places You Can Find
Our Products